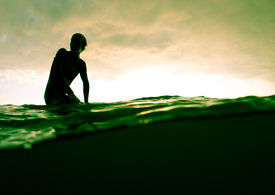 In 1964 Nicholas Tomalin wrote an article for the Sunday Times entitled 'Sun, surf and sexuality – it's a whole new cult' about the new craze about to take the UK by storm. Its tone reminds me of those old public information films and should raise a chuckle or two…
[Completely unrelated photo by Jamie Bott]
The Times has reprinted it in full for your enjoyment, and it's worth a look for a number of reasons…
1) Tomalin's dummies' guide to surfing: "A surfer's clothes are T-shirts, sawn off, dangerously frayed jeans, and (in the water) a black sorbo-rubber tunic that makes him look like a monochrome Dan Dare."
2) His prophetically accurate vision of how surfing would become so popular.
3) The super story of how Bill Bailey and two Australian chums rode the Severn bore.
4) The most amazing description I've ever read of the surf 'bug': "There is undoubtedly something unhealthy about this obsession. It catches people, enslaves them and it forces the surfers into virtually outlaw bohemian lives."
Read it and weep (with laughter).
Thanks to Jamie P for the heads up.