<

img class="alignleft size-full wp-image-1190" title="aaron-on-alaia" src="http://www.driftsurfing.eu/wp-content/uploads/2009/07/aaron-on-alaia.jpg" alt="aaron-on-alaia" width="275" height="195" />One of the most amazing bonuses of making these boards is that I get to meet (sometimes virtually, over email) the most incredible people, each of them stoked on life and the rush they get from surfing.

Aaron, a really good surfer out in Hawaii, is one of those people. He's been sending me these insane emails for months now, explaining how he's been making boards out of native Hawaiian wiliwili. Compared to paulownia, wiliwili is slightly more buoyant, but not as water resistant. Aaron tells me that it's really difficult to seal, and not quite as strong as paulownia either – it's almost exactly like balsa, apparently. The ancients used wiliwili for their olo boards; from his own research Aaron reckons that they could partially seal the wood but after they used the olo they would have to dry it out before it could be ridden again. When he got his hands on some paulownia he sent me some feedback on how the two compare: "Loving the paulownia – it's so easy to work with and so much less time consuming than the wiliwili. I make a wiliwili board in about three weeks, and a paulownia board in about three days!"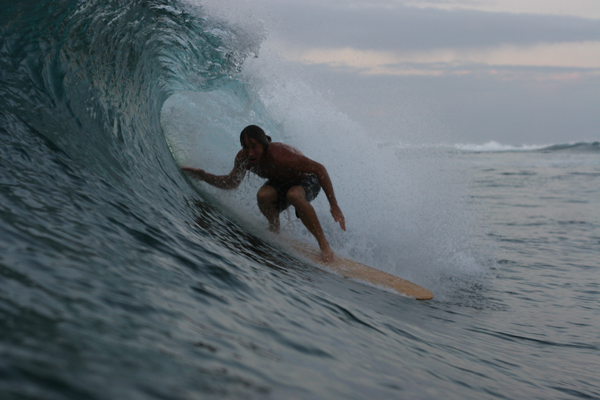 I'm always so stoked to get Aaron's emails – I think that they are the best documentation of the progression of the alaia that I have seen. He's so full of stoke, and he just loves the La La! When he describes riding his alaia it's as if I was there with him: "Been alaia surfing my brains out in Waikiki this summer! These guys were so lucky back in the day. I wonder if they realised just how lucky? Last night at Courts (in Ala Moana beachpark) the waves were really hitting the reef well and when the sun went down everyone got out of the water. I decided to stay out and get some uninhibited practice time. Wooo hoooo! All I can say is when you connect the dots on an alaia there is nothing comparable! So fast, sick turns, nothing like it… Did you have any idea they would work in the barrel so well?"

One day we'll meet in person and share the stoke.