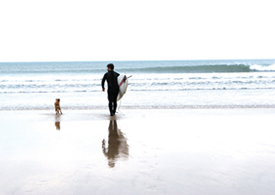 Launching a new company when the global economy was languishing in the depths of a recession might not have been the most sensible business plan, but Peeler's Andy Thorne is glad that he made the leap when he did. Against the odds, Peeler is doing really well; it would appear that people's appreciation of good quality, eco-friendly products has allowed the company to grow, even when we're supposed to be pinching pennies.
The range of products on offer through the Peeler website includes organic clothing, beanie and jewellery made from recycled materials, organic hand-made soaps, and various surf products. "I knew that eco-friendly surf products were widely available before we launched Peeler," says Andy. "But there was no one place that sold 100% environmentally conscious products. In addition, I felt that there was room for more UK-produced ethical surf products."
"We have been working on a natural board wax made here in the UK, which will replace the Matunas wax that we previously imported from the US. Our recipe contains bees' wax, coconut oil and tree resin, plus a few secret ingredients! We have people from Scotland to Cornwall testing the wax as we speak, and we're getting really positive feedback. We're also developing a new board bag to be manufactured here in the UK – the plan is to produce something that's kind to the environment, while also approaching some of the problems you get with board bags from a different angle… But I can't say any more about that at the moment!"
Peeler's hoodies and t-shirts are made from 100% organic cotton, and they're produced in a wind-powered factory in Turkey. Re-knit beanies are made from recycled wool from jumpers that Andy and the crew pick up from charity shops. They're unravelled and the wool is washed before being made into new garments by local knitters.
They've recently parted company with Wave Tribe, because, while their products were made from environmentally responsible materials, they were shipped from China to the US, then on to the UK. "Instead we are developing our own surf products to be manufactured here in the UK. A balance of low carbon footprint, sustainable materials and product longevity seems to be the best approach for the environment," Andy explains. Sensible talk indeed.
For more product news check out the Peeler blog.