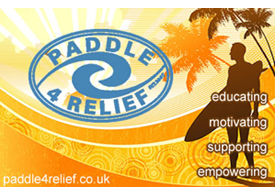 49-year-old former Arugam Bay Surf Club Chairman, Ranjan, died of a massive heart attack while surfing at Baby Point, Arugam Bay, on the east coast of Sri Lanka. Attempts at CPR by both local people and Western tourists alike failed to revive him.
Ranjan died doing something that was close to his heart and will be sorely missed. He was a mellow and humorous pillar of the local community, leaving behind a wife and three sons. Alan, the eldest, is a regular surfer, who uses UK surfboards donated by Paddle4Relief. He has been a force within the charity, using his skills to repair our computer.
Ranjan's death highlights the need for both beach life guards and a medical centre in the village. With the civil war over, internal travel within Sri Lanka, particularly the East and North, is more relaxed, so we're seeing increasing numbers of both Western and Sri Lankan tourists crowding the beach and sea. It is more apparent then ever that there is a desperate need for qualified life savers. Local surfers are regularly rescuing individuals from the unpredictable tropical coastline, and the young surfers of the village are demanding action to prevent further loss of life. They are willing to undergo training and man the local surf breaks in an attempt to save life and prevent injury. These young men are turning to the international humanitarian, medical, surfing, surf life-saving and water sports communities to assist them in their quest!
Out of respect for Ranjan, the community of Arugam Bay is determined to make this change happen, and hopes that all who read this article can be generous in offering  either practical or financial help.
Please either contact Fawas, present Chairman of Arugam Bay Surf Club or Tim Tanton at Paddle4Relief.