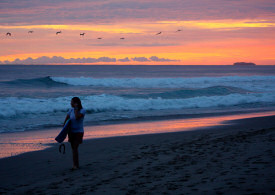 If you've ever thought about doing some volunteer work while on a surf trip, you might want to check out the Flying Kites program.
The charity is partnering with Surf for the Cause to provide surfing and volunteer trips to Nicaragua starting in December. You can split your time between working on community projects in local villages and surfing the stunning Nicaraguan coast, all while benefiting the work of Flying Kites.
Flying Kites is a charity devoted to empowering the world's orphaned children to become leaders of their generation. They believe that every child, no matter where he or she calls home, deserves the best; exceptional care, a high-quality education, and the chance to enjoy their childhood. At the Flying Kites orphanage in Kenya children receive outstanding care and a world-class education in a beautiful surrounding. The FK staff are dedicated to developing this model of exemplary childcare in order for it to be extended and replicated throughout the world. They aim to provide opportunities for the leaders of tomorrow and change the way citizens of the world think about options for disadvantaged children.
Surf for the Cause, are bringing surfers, travelers, and people in impoverished coastal communities together to create significant and lasting relationships, "one wave at a time." It's a simple but important mission; cherish the people and places where you surf, and you can change the world.
This unique joint-effort between Flying Kites and Surf for the Cause provides an opportunity to benefit children in Nicaragua, Kenya, and around the world. Make the most of your winter holiday by joining Flying Kites and Surf for the Cause in Nicaragua to help alleviate suffering, bring joy, and inspire others all while searching for the perfect wave.