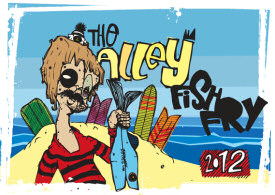 The next Alley Fish Fry will be held on Sunday March 4th 2012.
We gather in the park opposite the beach at Currumbin as before. So get your boards ready and bring the family and a picnic lunch. Look forward to meeting you all next year.
Please remember it is a non competitive and non commercial gathering of board riders and builders of these sweet craft.
It's about shapers who craft these boards and those of us who enjoy the ride. Each year we see many new ideas on the the original theme and that's what is great about the evolution of the fish. If you are not a shaper bring your fish and enjoy the stoke and celebrate the fish with everyone else who enjoys the ride.
If you have pics of boards you are building please feel free to email me or check the web site.