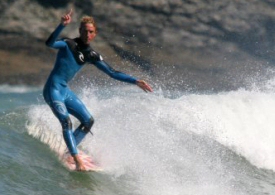 After clinching consistent first and second place wins throughout the British Longboard Union tour, Trevelyan Garland has won the British Junior title for 2009.

Within the last decade or so Britain has been making a name for itself in the world of longboarding. With the likes of Ben Skinner, Dudley, Harris and others pushing competitive surfing onto the international stage and getting solid results worldwide, these guys have been laying down a core foundation and providing inspiration for an up and coming generation of young surfers looking to lay down smooth, clean lines and push British longboarding even further in the next decade.
Trevelyan Garland, a.k.a. Trev, is part of this generation and hot on the heels of Skinner and Co. Early in 2009, Finisterre tipped Garland as one of the most, "underrated, young talents within the competitive long boarding scene" and soon got him on side, with his quiet determination and humility. "It felt great to finally get the title, it's taken a lot of time and effort getting to the comps and trying to stay ahead. Now I am looking forward to the Autumn and hopefully some good swells back in Cornwall."
Finisterre's founder Tom Kay, speaks highly of Trevelyan. "We like his attitude, Trevelyan and his brother Charlie, have always been passionate about surfing and fishing. Following in his Dad's footsteps everyone's always recognised him as a great surfer on the way to good things. Here at Finisterre, we congratulate Trev on his win, and back him all the way." Ernest Capbert, Finisterre's marketing director praises his non aggressive competitive attitude. "His style is quiet and humble, he shows up to comps, straps on his gear, waits patiently, paddles out, get the highest scores in the heat, collects his winnings and walks off quietly in the distance". It seems that the future of British Longboarding is in safe hands.