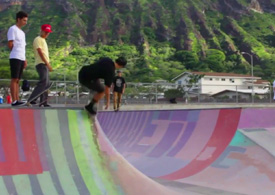 The humidity sets in as soon as the mini van's air conditioning is turned off. A window rolls down and a hand emerges, tracing the outline of the Waianae Mountain range. Pineapple fields stretch for miles in either direction as the van makes it way toward Honolulu International Airport (HNL). The fields give way to small towns, and then to high rises, as the group approaches the airport.


Inside the van, taking in the changing landscape of Oahu, are Cara-Beth Burnside (CB), Vans rider and co-founder of Hoopla Skateboards; Marina Zawisa, director and producer of the documentary "3Killas y 1Kiwi"; Alisha Betcke; and Micaela Ramirez, founder of the Poseiden Foundation. Waiting for the van outside the dark underpass at HNL is Elissa Steamer, NikeSB rider and founder of Gnarhunters. The minute the van arrives and Steamer takes a seat, the 2014 Poseiden Foundation Oahu Tour has officially begun.
The Poseiden Foundation was created by Micaela Ramirez in 2005 and is a non-profit organisation. Its aims are to empower young people to discover their real passions, build confidence, and further their understanding of the world.
During this six-day tour of Oahu, Poseiden worked closely with the Pipeline Women's Pro, a local non-profit venture, visited skate parks, and inspired students at Sunset Beach and Waialua Elementary. Each day, the Poseiden team collaborated with youngsters of varying age, life experience, and economic status.
For more information visit The Poseiden Foundation
Poseiden Foundation 2014 Oahu Tour from poseiden foundation on Vimeo.