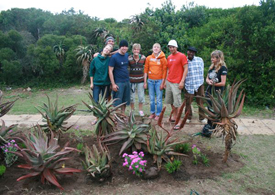 You meet some amazing people through surfing. Venturing far from the beaten path in search of empty and un-crowded waves, you encounter all kinds of weird and wonderful people who live off-beat lives under the radar. There is an authenticity to these people, and you get a real feel for the countries you visit. This is what makes the search all the more rewarding, this is what inspires me to keep searching.
But it's not all about the search. Surfing's aesthetic and graceful dance draws people in from all walks of life, uniting them all for an instant. Surfing pays little service to the traditional boundaries that keep us in day-to-day society and I know that if it wasn't for surfing, I wouldn't have met the people who have helped shape my life over the past few years.
It was through surfing I came to know Jacko.
I'd been to J-Bay a few times before but had never really spent much time getting to know the community. It was only in 2007 that I got to know Alison and the crew at the Supertubes Foundation. At the time I was running surf tours up the coast for Ticket to Ride and we'd spend a few days helping out Alison, Jacko and Simpiwe, rescuing and replanting indigenous and endangered species under threat from the developers. The more trips we did, the more time we spent together, and soon we became good friends.
Jacko had come to J-Bay from the South Coast and his work in the Foundation gained him local prestige. He was a well-known face about town and a popular figure amongst the travelling pros whenever they visited. Whenever we worked together in the park I was amazed by the his knowledge for the flora of the area, all gained from his days at the park as he gleaned every last drop of information from his day's work. It was clear he took a lot of pride in what he did.
Over tea one day we were discussing surfing, Jacko mentioned he used to surf when he first came to J-Bay but broke his board one day and could not afford a new one as he used his wages to support his family. Since then he had not surfed. I had a spare board with me at the time so, over the course of the chat, I decided to give it to him. He'd get more use out of it than I ever would and besides, how many boards do you really need? I have far too many.
I remember the board well. A 6'10" red thing I'd bought the first and only time I'd been to Bali. I remember riding it in perfect, big Desert Point and a couple of other spots, but I'd rarely had the chance to use it since. So one afternoon I drove down to Supertubes Park and gave it over to Jacko. I remember seeing him paddle out one cold morning at Kitchen Windows. It was quite big with a devil wind blowing, but it was just Jacko in. He saw me and waved me down, I erred for too long and by the time I got to the water's edge, he was freezing and finished. I wish I'd hurried as I would have loved to have surfed with him.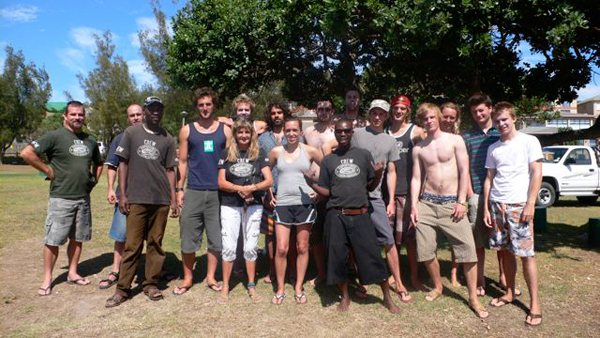 Shortly after, Jacko was diagnosed with TB. It was a reality check; I'd been in Africa a long time but had never encountered the crippling effect of this endemic disease. At the park one morning, Alison told me he looked rake thin, barely able to hold himself but still wanting to work. Alison and the Foundation got him admitted to hospital where he fought the disease with all he could, but recently passed away.
Africa is a continent alive with some wonderful and passionate people. Jacko was one of them. But it is also a continent beset by illness and disease. The fight against HIV is well documented but the struggle against TB less so.
South Africa has one of the highest TB rates in Africa, with an estimated 940 cases per 100,000 capita. This is largely down to a lack of government intervention, proper virus screening and poor administration of anti-TB drugs. More worryingly, misuse and misappropriation of dated TB treatments and vaccines has lead to several new drug-resistant strains of the highly infectious lung disease appearing. Patients suffering from TB undergo long and complicated treatments often lasting 6 months plus, too often failing to complete the course prescribed hence the emergence of these new resistant strains. In 2005, the World Health Organisation declared South Africa a TB emergency zone.
The fight to stem TB has begun, but is increasingly hampered by the high co-infection rate with the HIV virus – 44% of new TB cases also test HIV positive. Furthermore, the most recent TB vaccine was created some 35 years ago, and any new drugs capable of combating the newer, resistant strains are still 5-10 years away from full development. Financing these drugs is also an issue, rendering the operation unprofitable – and therefore unattractive – for the world's large drug companies; this seems to be a perpetual problem for developing nations.
It's heart-breaking to see so many people suffer and die from a preventable disease. TB is easily contained in the developing world – when I first head that Jacko was ill I fully expected him to make a swift recovery. It's only now, since his passing, that I have come to know the full extent of the crisis.
I only knew Jacko for a short time but I shall remember him much longer. For those that knew him well he will be greatly missed. His enthusiasm for the outdoors was infectious and I'll always remember the smile on his face when he told me he was almost 40. I thought he was 25, not a day older.