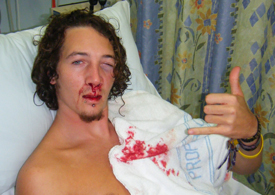 Earlier in the year I wrote about re-losing my surfing virginity in Australia.
After a couple of months out of the water I vowed that I'd spend as much time surfing as I possibly could – and never again would I be content spending that much time not riding waves.
And I've kept to that vow. I'm now living in Byron Bay, with the beach literally 100m from the hostel where Nic, the Aquarius crew and myself have been making the most of the winter swells. We're all pretty much on top of our game surf-wise. Come rain or shine, on pumping days or near-flat, we've been out there enjoying ourselves.
Riding my nine-foot log as a singlefin, I was enjoying early pickups and carving some faces, most times being the only crazy longboarder out at the Wreck.
But this all came to a rather abrupt halt last Saturday.
It had been flat for a while, so we all wanted to make the most of a cleanish two/three foot. I worked my last shift for the day, leashed up and made the brisk walk down to the Wreck to join a group of friends who had already got stuck into the beach break side of things.
Everything was going great; the paddle out was easy and I was soon peeling right and left, cruising through the crowd. Everyone was getting their stoke on, and the sun even made a brief appearance. Happy days.
Nic and me ended up closer to the actual shipwreck than the rest of the pack. It was a little bit bigger and we had it pretty much just to ourselves. I stuck around for a bit longer as Nic paddled back to the groin, and I was joined by my mate Cribby, who was having a swim.
I sat around out back for a while waiting for something a bit more punchy to roll in. As I turned and started paddling for a nice line I noticed Cribby was going to get a perfect view of either me getting slotted or kicking out if I peeled left – so left I went! As the lip feathered up I went to tuck in, then realised it was going to close out, so I decided to dive back through the face.
I had just punched though, when BAM! I felt an almighty whack against my face and quite literally saw stars. My board had just smashed me in the face.
Still underwater and slightly dazed, my first thought was "shit, am I unconscious?"
Managing to move my legs, I quickly got myself to the surface and cupped my throbbing face. I checked all my teeth were intact (thankfully they were) but the relief was soon over as I removed my hands to find blood gushing from my face.
Not good.
Cribby got me to shore and we headed straight to the nearby Byron A&E. Rocking up to the hospital – still dripping wet and suited up – I was quickly escorted to a bed and handed gauze to stem the bleeding and a few ice packs to try and limit the swelling. Cribby, being a good mate, immortalised my prettiest moments on camera.
A couple of days later, and I've got stitches, the swelling has really kicked in, it's been a right pain in the arse to eat and I've been drinking soluble paracetamol through a straw. Everyone's been great though, especially the lovely Kerri, who spent over an hour cleaning my bloodied nose with cotton buds. Ahhhh. It's also gained me some good kudos amongst other surfers in Byron!
Despite my current facial state, I know that I've been incredibly lucky. Half an inch higher and I may well have messed up my eye; one inch lower and I would've certainly lost most of my front teeth. And I dread to think what would have happened had it knocked me out.
Rest assured though that I'm now on the mend. The swelling is slowly going down and my stitches are coming out over the weekend. Then it's just a case of waiting to see how my nose goes before I get back in the water.
Surfing a dangerous sport, and I think sometimes as surfers we can easily forget that. Sure, you pick up a bruise here and a scrape there, but it only takes one freak accident, one slight misjudgement, and it can all go horribly wrong.
But that's half the fun right? If we didn't get a kick from it we wouldn't be doing it!
As soon as the ding on my board is fixed – my face broke right through the rail to the foam core – I'll be waiting for the swelling on my face to go down and the swell in the bay to pick up, and then it'll be business as usual.