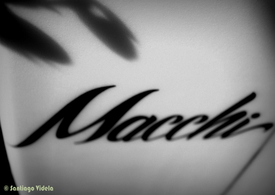 After years of work, a deserved reputation on Mar Del Plata surf community (most important surf spot on Argentina) and hundreds of boards shaped, Ezequiel Macchi took the logical and evolutive step forward starting his own brand, Macchi Surfboards.
Me: Ezequiel, which is the main reason about this transition from Bessell surfboards to your own Brand?
Ezequiel: It was a natural step , A personal need to show everything that i learned in all this years and show it on my own brand. In fact, my relation with Tim Bessell is so good that some boards with under Bessell brand are still being shaped.
It sounds as an ideal transition, Well done!
Ezequiel: Thanks.
In what kind of shapes are you mainly focused ?
Ezequiel: I will not relegate any model , I just finished a couple of longboards, some guns and a some shortboards for my riders Juan Manuel Arca and Federico Goñi.
Talking about riders and sponsors, which is your point of view about it?
Ezequiel: Thankfully i have 2 very experienced riders (Juan Manuel Arca and Federico Goñi) and believe me, i do not want or need no one else, looks like there is an obligation with the new riders. They win a contest or two and if they contact you , you are forced to give them boards, leashes , whatever they want for free. and let me tell you something: that is not the way!!!
Sounds like the new guys are suffering the "TV/Rock star`s Disorder!!
Ezequiel: seems to!
Being a professional shaper for several years, which is your opinion about pop out boards?
Ezequiel: Thankfully here in Mar del Plata there are several good shapers, so the pop out topic is not a problem. If you are a beginner or surf is just a summer tale to tell your friends, it is ok. But you can not consider to buy one pop out board if you surf on a daily basis. If you do, you will ride a surfboard with no balance at all and , most important , with no shaper hands on it.
logically. The funny thing is that lately i saw pop out Merrick boards… that is something that you do not expect to find!!
Ezequiel: As Burton acquires Merrick`s channel islands few years ago , it seems that they are really expanding the business. Is just a choice. Moreover, it would be a good achievement try to reach a minimum "basic" standard on relation with the shaping process among shapers (at least here) in order to deliver the best quality to the riders.
Next steps?
Ezequiel: Keep working on Macchi surfboards trying to achieve the best quality. And enjoy the swell as much as possible.
Thanks Ezequiel.
Santiago Videla (editor)