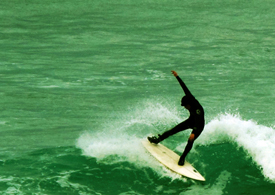 Surf trips are as much about the expanse of sky and the stars as they are about the horizon, water, the ocean and the waves. They're as much about eating as about riding waves, and as much about walking as driving.
So many things chart the day to its plotted end: defamations, character assassinations, puns, Protean narratives. Perhaps it's only through otherness that we fully realise the gamut of experience and what it truly means to place a value on things.
Even in pursuit of the image we rarely give anything over to the peripherals of the event; the event itself is always pre-possessed of an aesthetic of operations, a centring which usually marks out its composition around climax. As such, the details rarely sparkle. Perhaps culture is too hard for the softer edges; it desires the voyeuristic presence more than the ethereal. Much of these things are matters of perspective, but the common thread that binds us is the perception embodied in the experience of now. The writing becomes re-presentation, but the words – like the images – collect the shell of experience on our behalf; in so doing, these works themselves become a further experience of otherness.
In the spring of 2009, Ollie Banks, Steve Croft and I headed for the western isles. In the following autumn, Ollie Banks, Steve Crawford, Joss Wescombe, Rich Mathers and I returned. Two seasons apart, here's a selection of perspectives that bridge generations.
[imagebrowser id=31]
Surfboards courtesy: Empire Surfboards, Planck Surfboards, Royal Surfboards
Wetsuits courtesy HOTLINE wetsuits
Clothing courtesy Finisterre