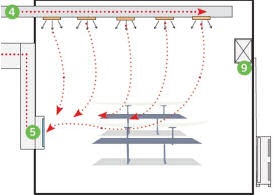 If you're a shaper, you may want to take a look at the EuroSIMA guide to staying squeaky-clean in the shaping bay. Light readers look away now…
The 2010 Ecoshape guide, commissioned by EuroSIMA Cluster, contains helpful information to build or develop a shaping workshop respecting Health, Safety and the Environment.
More than 2 years of research and testing in experimental workshops have been necessary to develop this guide for professional and amateur shapers. In Europe, the number of shapers is estimated at 400 professionals and several thousand non-professionals.
Innovative tools to evaluate working conditions have been used in partnership with professional ergonomists and the Regional Agency for the Improvement of Working Conditions of Aquitaine. A software application has also been specially developed and is now used nationally by the Services of Prevention of Professional Risk.
These studies have shown that shapers were exposed to unsafe acts up to 83% of working time, while a turnover of shaping stages and the installation of low-cost equipment can reduce the time of exposure to 30%.
The recovery of energy through heat exchangers can heat continuously workshops in winter while saving energy and therefore money. The shaper can maintain their activity throughout the year whatever the external conditions.
Download the electronic version of the Ecoshape guide at the following link: www.eurosima.com (members access only) or order the print version for 20 euros (free for EuroSIMA members) at:
EuroSIMA – Villa Casa Mia – 9, avenue des Acacias – 40130 Capbreton – France
Tel. : +33 (0)5 58 72 15 33 – [email protected]