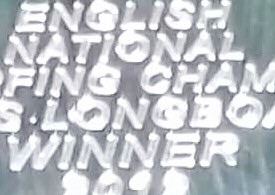 Ben Haworth becomes 2012 English Longboard Champion at Watergate Bay.
Held over the weekend of the 9th and 10th of June at Watergate Bay, the English Championships Hosted by Tiger 24 and Watergate Bay Extreme Academy, was a great success.
With the Open and Ladies shortboarding being completed on the Saturday this left the longboard, senior, Masters and Veterans division to be run on the Sunday in smaller conditions and drizzly weather. All of this aside everyone put their heads down to go out in their heats and do what they had to do. In the Longboard final it came down to Ben Haworth, Ben Skinner – Current European Champion, Adam Griffith – 2011 English Champion and Angus Murray – top up and coming longboarder from South Devon.
The final was held in dying-off conditions from the morning resulting in 1.5 foot cross shore waves. Everyone was struggling in these conditions and everyone was in the same boat trying to find a scoring wave. With Ben Skinner winning the final in the first ten minutes Ben Haworth needed a 4.5 to go into the lead. He managed to catch the next wave that came through to score a 5.1, which took him into first place with still half the heat to go. Also backing it up with another top score Ben Skinner now needing a 6.5 to take first place which he didn't manage to find in the dying conditions.