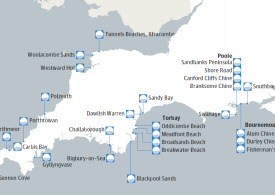 England's cleanest beaches are revealed, with many places being awarded special status. See for yourself where you're unlikely to run into turds or a chav in the line up.
Keep Britain Tidy has revealed it's winners and losers in the 2010 study. The awards recognise a whole range of criteria from lack of litter, good beach management and also lack of sewage. The number has dropped by one from last year but is still up from 24 to 77 in a decade.
Download the pdf here.