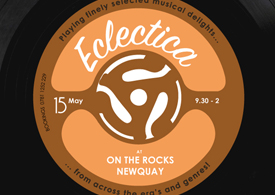 If you're in Newquay on a Saturday night and want to get your freak on, but don't appreciate the rich diversity of stag party fancy dress that's normally found around these parts, then you should get yourself over to On The Rocks for 'Eclectica'.
Last night was the inauguration of this new monthly event featuring music from across decades and genres. We threw some shapes to the likes of The CBs, The Cure, King Curtis, Sly Players, Chuck Berry and The Clash, and a riot was had by all.
If you want to sample some geniune Newquay flavour, Eclectica will be reprising its success on 12 June, 17 July and 28 August.