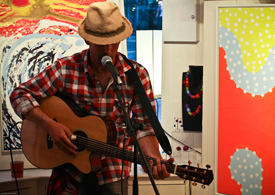 Last Friday evening, the Driftwood Gallery in Newquay cast light into a dreary Cornish evening with their Eating Waves evening of surf art.
The popularity of the event was evident from the steady rumble of chatter that emanated from those shuffling around inspecting the art on show. As the evening went on the drinks flowed and Tom Mounsey entertained the crowd with his blues notes and rhythm guitar.
The event was very sociable and provided a great opportunity for artists to display their work. It was refreshing to see art from around Devon and Cornwall alongside internationally acclaimed artists such as Wolfgang Bloch and John Severson, to name but two. There was a variety of work on show, including mixed media, photography and paintings outlining the depth of creativity and lack of cliché in quality modern surf art.
I walked away from another great exhibition yet again filled with inspired for my own work.
[imagebrowser id=54]