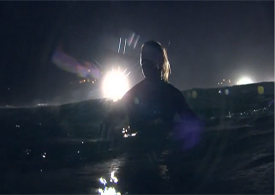 Using Ernest Hemingway's reflective line as a title and the words of Virginia Woolf and local surf pro Alan Stokes in voice over 'EAT THAT, GALANOS' peeks at man's nocturnal relationship with the ocean and as surfing as an inconsequential by-product of it's immense power.
Shot at last year's Night Surf event held by Nike on Fistral Beach in Newquay, it encourages anyone who ventures into the water to question their own relationship with the waves and the neverending battle to master them.
Created by Will Hanke and Phil Young, the piece snatches a glimpse of the tricks that the mind plays when on, or in the ocean during the hours of darkness, and suggests the fickle and wanton inner nature of the sea.