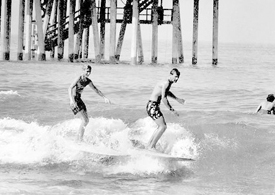 Having notched up nearly 50 years in the surf industry, Bing Copeland is a name with serious longevity. Drift found out more about Bing, his boards, and what the future holds…
Drift: When was your earliest surfing experience and what did it mean for you?
Bing Copeland: I was a body surfer and skim boarder from 1945 until 1948 when I was loaned a heavy redwood and balsa board by Dale Velzy. It was really difficult to keep from pearling but after many attempts I successfully rode my first wave to the beach. The thrill is something no-one forgets and I knew at that moment that surfing was the sport for me.
Drift: When did you make your first trip to Hawaii?
BC: In September of 1955 five buddies and I flew to Hawaii and spent the first two weeks surfing Waikiki before moving to Makaha where we rented a Quonset hut on the point. I have many fond memories of hanging out with my friends and learning to ride Makaha.
Drift:Did you jump into big-wave surfing straight away?
BC: No, we were lucky to get to ride small Makaha first and were able to work our way up as the winter swells increased in size. We had the privilege of surfing alongside George Downing, Buzzy Trent, Peter Cole and many others. It was Downing that taught me to observe the direction of the swell in order to recognise a close-out from a makeable wave.
Drift: What were you riding at the time?
BC: We were all riding Velzy Malibu-style balsa boards. We each only had one board and we rode them in all conditions. Mine was 9'6" x 22" with the wide point a foot or so forward of centre.
Drift: Was joining the US Coast Guard designed to keep you in the water as much as possible?
BC: Actually, joining the Coast Guard was to keep us from getting drafted into the army. As it turned out, since we had already completed our basic training in the States as reservists, it was easy to be stationed in Honolulu which allowed Rick Stoner and I to surf Ala Moana every day after work and to spend 30 days every winter surfing the North Shore.
Drift: Were there any moments riding Makaha and Waimea when you thought you may have become too confident?
BC: Yes! At Sunset Beach I had been so confident that I thought I could handle any wave that came my way. One day on a small inside section I got drilled and held on the bottom longer than I wanted. I remember, after swimming in and retrieving my board, as I was paddling back out thinking to myself that I'd better show a little more respect for the ocean and make wiser choices about which waves I took.
Drift: You were part of the group who put Waimea on the map, how does that feel to be involved in such an important time in the history of surfing?
BC: It's really been built up to be a bigger deal than it actually was. It wasn't a giant day and the water was pretty smooth. It was mostly getting over the taboo that Waimea was known for after Dickie Cross was killed there.
Drift: Who do you keep in contact with from those days?
BC: The six that flew over in 55 were Rick Stoner, Mike Bright, Sonny Valdeman, Steve Vorhees, George Kapoo and me. George and Rick have since died, but I see Sonny and Mike regularly.
Drift: When did you first meet Dale Velzy, and how much did you learn from him?
BC: I first met the Hawk in 1949, when I began hanging around the Manhattan Beach pier. A year or so later he opened his first shop and I would hang around as much as possible. I never really realised that I was learning about building boards but I guess I did. Mostly it was just really cool to hang around and do little jobs for him.
Drift: Can you tell us why you pursued Dick Brewer to the extent that you did to bring him into your design team? What was it about Dick which appealed to you that much?
BC: It was Duke Boyd, who was helping me
with my advertising, who suggested we approach Brewer with the idea of working together on a few models. Dick had a lot of talented surfers that were riding his boards in the Islands, so it was a really good fit to include him on our design team.
Drift: How did Mike Eaton become involved in Bing Surfboards?
BC: I've known Mike since we were in our teens, but he didn't come to work for me until the mid to late 1960s. He was always a good craftsman and a great guy to work with – it was only natural for him to carry on the Bing name when I moved to Idaho. I would always stop and visit Mike every time I passed through California. We remained friends and always discussed the direction of Bing Surfboards when we met.
Drift: Is there one board design that Bing will be associated with more closely than any other? Dan Bendiksen's pintails? The Eaton Bonzer?
BC: Well, certainly we will be remembered for listening to the Campbell Brothers, building and giving the Bonzer surfboard a place in the evolution of surfboard history. Also since we made more David Nuuhiwa Noseriders than any other model we will be remembered for those as well. Dan Benkiksen was the main shaper for the noseriders and he was instrumental, along with Mike Eaton and myself, for co-designing most of our future models.
Drift: When Mike handed the reigns to Matt Calvani, did you feel that Bing Surfboards was entering a new era of modernity?
BC: Absolutely. Mike was pretty wrapped up in building paddleboards and wasn't really pushing the Bing thing. When we switched the production to Matt Calvani in Hermosa Beach, it was like a breath of fresh air. Matt, besides being an excellent shaper, has a deep interest in preserving the classic longboard tradition and modernising the shapes where necessary.
Drift: You must have witnessed life change radically around Hermosa Beach. Was it hard to relocate to Idaho?
BC: By the time I decided to move to Idaho we were ready to get our kids out of California and away from the drug scene. When I moved to Idaho it was the first time I ever had a lawn. And the small town atmosphere of Ketchum, Idaho was fun and refreshing.
Drift: Sitting on the end of the Manhattan Beach pier with Greg Noll, did you ever imagine you would have made such a long life from the surfboard industry?
BC: Absolutely not! My life in the surfboard industry just sort of fell into place by itself. It would be nice to say it was some sort of a grand scheme, but it just evolved. I never imagined that there'd be a book about my life and times, that's for sure.
Drift: You're over 70 now; looking back, would you change anything?
BC: Not really. I've had a good life and have been fortunate to have surrounded myself with good friends and great craftsmen. I've also been fortunate to find a second occupation, which has allowed me to retire modestly.
www.classicbingsurfboards.com
Photos: Courtesy of Bing Copeland