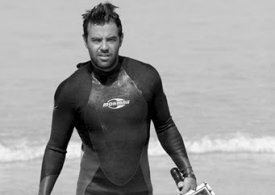 Luciano Burin interviews Brazilian photographer Beto Paes Leme about his love of the waves of Rio.
The beauty of Rio's beaches are celebrated in many songs and it's where surfing first became popular in Brazil, back in the 1950s. The city has a strong sports vocation set to boom in the coming years as Rio hosts the 2014 Football World Cup and the 2016 Olympic Games.
The editor of Soul Surf, 39 year-old Beto Paes Leme, shares his images from the surf and beach culture of Rio de Janeiro. In an exclusive interview with Luciano Burin of Surf & Cult, Beto reveals a little of his personality and world views, where the search for simplicity translates into a peaceful and positive attitude towards life.
LB: Tell us how you got involved with surfing and photography?
BPL: I started when I lived in São Conrado. For me the Pepino beach is one of the nicest places I know, surrounded by mountains like the Two Brothers and the Pedra da Gavea. The waves there are also very good. I was a regular at São Conrado, a journalism student, and those surroundings inspired me to immortalize the moments I saw in the water, to express myself through photography.
You photograph Rio's waves with your own eye, what are the main features that make the beaches and the waves of the city so special?
I think that above all, Rio has so much subject matter for any photographer. A city of contrasts, between nature and urban, between luxury and poverty, all coexisting simultaneously. This unusual geography, with giant rock-shaped hills, lakes and dense forest which all hug Rio make the city a special place. The beaches have white sand and are surrounded by magnificent mountains close to the sea which mingle with the urban setting of the buildings of Ipanema, Leblon and Copacabana.
On the other hand, there are havens like Prainha and Grumari, where in a few minutes drive you can enjoy true ecological sanctuaries without any sign of civilisation. Rio has several beaches with great waves and clear, blue water almost all year round. This makes for great water photography.
You've built your own housings to shoot with. Tell us about the evolution of your equipment over the years?
I built my waterproof cases using ideas and details from the great Rio photographer Rick Werneck. The truth is that I had no money to buy a good telephoto lens and importing a case was also expensive. So shooting from the water the cheapest option by far and not many were doing this.
At this time we used 35mm film. I had to improvise by building a darkroom in the bathroom of the house, and I also started using chrome films, which were very expensive… but it was a really good time.
I have never been someone who uses high tech equipment. I always think about the cost benefit of not having an expensive camera and lenses exposed to sea air or ending up on the sea bed. Now I have better equipment, digital cameras have evolved a lot in a short time, but I still use my own waterproof housings which never let me down.
How do you know which are the best moments of the day to photograph?
I try to always be aware of the light and weather conditions, when there are waves, and where the good surfers are going to be. Basically this is what the photographer is working with when in the surf. Each photographer has their own way of seeing the world and I think that's what distinguishes the work of one and other.
What are the most striking pictures of surfing that you've produced?
I don't think I have produced them yet. I hope that one day I can come to you and say, "That's my best surfing shot."
Is there anywhere you have not been yet which really motivates you to go travelling? Why?
I've not been to several places yet, Hawaii and Tahiti, for example. These are the places with the best waves and the best surfing in the world apparently. But I feel more attracted to places outside the traditional route of surfing.
Which other surf or non-surf photographers inspire you?
Such icons as Bresson, Sebastiao Salgado, Art Brewer and Dustin Humphrey . But I can say that I admire all those who somehow make me see things with charm and beauty.

What's in your quiver and where is your favourite wave?
I have some old boards at home that I would not ever get rid of, but I do not consider part of a quiver. Currently I'm riding a 5 `11 with lots of volume and edge. I've always preferred the waves close to home, São Conrado has always been my favourite. These days, with less time, my choices are Copa and Ipanema beaches. But the best wave I've ever surfed was no doubt in Lagundry Bay, Nias.
In addition to surfing and photography what else do you like to do?
I like the rural atmosphere of Mantiqueira, spending time with my family, drumming and Samba schools in Rio and watching Botafogo playing.

How would you summarize your relation with surfing and what it represents in your life?
For me, surfing is a state of mind, a practice that helps us to take life at a healthy, happy pace. It's good for the body and soul. Surfing makes us fully interact with nature. But not everything in my life is about surfing. There are lots of cool things that life has to offer which we can and must do, without believing that everything revolves around wave, sun and beach.
All photos courtesy Beto Paes Leme.