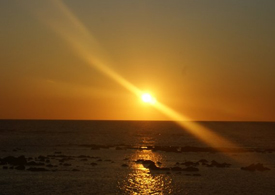 It was a glorious dawn: the sun rising from behind the Pyrenees, a sky so blue sapphires hid themselves in shame, the air hot and clean and heady with alpine aromas. (Photo by Iona Calvert.)
This was the north west coast of Spain. Basque country, mid August and I was basking in the new day, looking out along the coast at an Atlantic view so beautiful I felt too ugly to look at it. I was so immersed in the loveliness that I hardly noticed the young man come and sit down at the rock next to mine. I heard him light a cigarette and turned to offer him a smile, to share with him this moment of perfection. He looked back, shrugged his shoulders and said "yeah, downer right?"
It turned out his name was Marco and he'd travelled from his home in Italy to surf the waves from Biarritz to Bilbao. He'd blown over two thousand Euros on the trip so far, most of it on fuel, and had just enough to last the weekend before heading home. He was the picture of frustration. He'd managed just three sessions worthy of his expenditure but they had been a fortnight ago and in that time the nearest he'd come to satisfaction was a clumsy hook up with a girl from Belgium in the back of his van. He was young, good looking and tanned. He wore Reef baggies and leather thong sandals and his ripped abs and chiselled pecs made me wish I had brought a thicker sweater with me, and yet he was lost. He couldn't enjoy the splendour of the sunrise, he couldn't appreciate the panorama stretching out before us, he couldn't begin to appreciate the wonder laid out all around on this most prefect morning. He was hopeless and I pitied him.
Later, having spent a happy morning floating on the sea, I came to the conclusion that Marco and others like him had been spoiled. They had spent so long imagining their trip that the reality couldn't help but be a disappointment. Marco told me he'd researched every break from Poitiers to Porto before deciding on this stretch of the coast. He'd seen every video, clip and photograph of the waves which slam into the beaches of this area. He'd followed weather patterns, mapped out storms, become an expert on the oceanography of each break, each point, each river mouth but it had all come to nothing as the prevailing winds died and the ocean lay like a sleeping lion.
As for me, I'd stashed my board on the top of the car just in case. I'd ignored weather fronts and chosen my vacation destinations based on less capricious ideals: cultural events, food, bars, architecture – things I could count on. My board had come to every beach but had for the most part been our picnic table or float and I had never once begrudged the extra lugging because, as every Yorkshire East coast surfer knows, you ever can tell when a swell might appear.
Two days later Marco left for Italy. I spent the morning in the town and the afternoon waling along the coast road. In the evening we drove down to the beach and I lay out on the board to soak up the warm rays of the Sun as it slipped towards the horizon. I felt the win change and peeked up to see a bulge appear in the waters. It moved in slowly, rose up on the beach break and curled into a beautiful arc. Then, as the foam died down I saw another monster rising. I grabbed my board and headed in. Okay these weren't the double overheads Marco had imagined, but they were clean and regular and so sweet you could have served them for dessert. So I, unspoiled by expectation or aspiration, surfed into the dusk while Marco drove home with noting but shattered dreams as his companions.