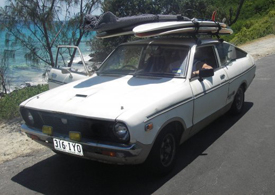 The Datsun 120y.
It's funny how something so insignificant can make a trip or period of time so memorable.
This sporty old number ferried us round the east coast of Aus for a couple of winters and did us proud. Apart from the freaky rattle it made when firing her up (we later found out we were putting the wrong fuel in) and a bust radiator, she just kept on going, even as the rust spots turned her from white to orange.
Apparently it was something of a cult car over there in the seventies, the preserve of c-list celebs and wannabe rich folk, confirmed by the thumbs-up I'd get nailing it along the highway and hearing one guy in the carpark at Cabarita exclaim, "Sentastional! It's a 120y!"
Got some very funny memories of this car, including a 120-mile round daytrip on the hunt for a decent wave, knowing deep down there wasn't going to be one. It got out of hand, the driver wouldn't stop, we were all whingeing chronically, bearing in mind the car has less room than a mini and we'd squeezed five of us in it – three broad hefty chaps over 6ft, five longboards on the ropey $40 roof rack… We couldn't sit up straight in the back; it was mid summer and there was no air con – sweaty, uncomfortable, but very funny.
It all started just going to check the surf at Burleigh… nah, might be better further down, just check Palmy; nah, might as well have a look at the Alley; nah, Tugun? Let's have a look at Green Mount, Snapper, D-bah, Fingal, Salt… "Ok can we go home now? This is getting silly…" Driver, stern, "NO STOPPING". Piled back in, quick stop at the pie shop, onward. Byron, finally Ballina to say a quick hello to Ed our mate from Woolacombe lifeguarding in the ass end of nowhere. Fortunately for us it was the end of the road; unsurprising it was no good – why hadn't we just given up at the start? Ten-minute catch-up with Ed to hear his shark attack story, then shoehorned back in, nearly dying of cramp and heat exhaustion in the back, and where did we end up? Mermaid, two miles in the opposite direction from where we started.
Good times.