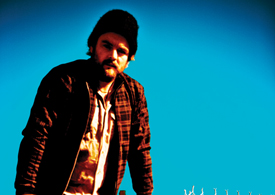 Australian Xavier Rudd is a singer, songwriter and multi-instrumentalist who has a strong connection with environmentalism and the rights of Aborigines. His inspiration comes as much from the ocean as the land.
Rhiannon Buck: What made you start using Canadian Aboriginal vocals in your songs?
Xavier Rudd: The voice we use is the Aboriginal Chief who sang on the White Moth album; his prayer was to Mother Earth and was a part of the song and part of a whole connection we had going on.
He's incredible; he should be running the world. He has an amazing scientific mind, on the subjects of anatomy, spiritual existence and reasoning, the reasons for our Universe, you know his philosophy is very broad. His Aboriginal background is what I draw from, as I come from that background anyway. But he has the scientific knowledge to back it up.
RB: I hear you learned to play the didgeridoo by practising on a vacuum cleaner hose…
XR: Yeah, it works! It was one of the first instruments I tried to play – my mum was always looking for the thing.
RB: How did you get involved in the 'Surfer Dude' film?
XR: I did three days of recording for it. It was a pretty light-hearted comedy and it was cool for me to work on, you know, jams and things that I thought suited the film. I haven't heard the outcome of it yet.
I knew what I needed to do: I laid down a bunch of grooves and then they cut them up and used them. It was sort of funkier than usual. I had a Hammond organ player with me, and you know it was kind of fun. I know they added some stuff to one thing that I did, which was weird, I wouldn't expect that. I've never had someone add stuff to my music, I wasn't that happy about it, I guess I was kind of disappointed, but you know… It was fun really.
RB: You've got a reputation as an activist campaigning for indigenous rights. How did that start?
XR: Well, I think it started when my great-grandmother had my grandmother and she was taken away. She was then raised by the Irish sisters of the father. I'm not entirely sure of her origins but she seems to be responsible for my journey, she had a very strong spirit. She comes through me, through my music, and shapes my whole existence. My passion and connection to culture is maybe the reason why I got involved in the campaign.
She's not a figure that I see, but I feel her and I know she's around. It gives me the strength of character I've needed at different times; it comes from another place, it's hard to explain.
RB: Has your love of the ocean influenced your environmental campaigning?
XR: I guess my music is a reflection of how I feel. I grew up in the bush surfing, camping, spending time on my own, connecting with the energy of my country and home. My biggest appreciation is for the natural earth, and I guess that comes through in my music. Lots of the places I visit have environmental groups, and I see those groups voice growing over the 10 years I've been around. It's good to see.
I care about the preservation of this planet and what time we have left on it and I get upset about how things are.
RB: Do you try to reduce the impact your travelling and the music industry have on the planet?
XR: It's easy at home, we live in a carbon-neutral home with solar panels and we do all kinds of stuff with the sewage system and the like. But when we go out on the road I just feel like it's really hard. We try, but it's a pretty toxic industry. And in some places it's harder to do than others. For example, in America we were carrying bags around with us trying to find somewhere to recycle. But in the music industry it's really hard to have some kind of sustainable tour unless you've got a huge budget. If you have a huge team and someone dedicated to make that happen in each place, it will happen. I think it's important that promoters and organisers in each place are aware of the impact they have – a standard thing that comes with all the shows seems to be plastic bottles and cups, it's always there. At some of the festivals I play at, it's not well organised, but I've noticed in Europe it's getting better. Glastonbury was good this year, they had it organised. But the V Festivals weren't.
RB: Do you bring your board on tour with you?
XR: Yeah, I usually do, but I blew it on this tour. I didn't bring it and I bought a crappy one in Spain for way too much money. I think we finish up in Biarritz, so I'll give to someone on the beach!
RB: Do you surf in the UK when you're here?
XR: Yeah for sure, in Cornwall. I don't remember where exactly. It was good, I had some fun waves, and it was warmer than I thought too. Although another time when I went in I was freezing!
It's cool to see a surf culture here in the UK; growing up in Australia I knew nothing about it at all, so it's really nice. There's a good scene here, and there's some good surfers too. They're tough you know, kind of like Canadian surfers.
RB: Are you riding your way around this retro scene right now?
XR: Yeah I actually like twin fins and old single fins. You know I get on thrusters a bit – I guess you can perform better for today's standards, turn vertical and stuff – but I grew up on thrusters, and it's nice to ride something else. It's like my dad, he grew up on old designs and then suddenly was blown away by the modern thruster technology. But I like the old slower boards, twin fins and stuff like that. I ride them back home and all my mates are on thrusters and are like "Get on the thruster you tripper!" but I love it.
RB: Does surfing feature in your music? Does it help you write?
XR: Oh totally, surfing is always there in all my work. I've always written a lot of my music in the water, since I was young. I still do now; a lot of inspiration is drawn from that.
Music is an experience that I guess humans have had since the beginning of time and so it's a very sacred and old experience. Surfing is the closest you can get to Mother Nature out of everything I've done. You're dancing with a pulse of energy from Mother Nature, it's very strong, prevalent and it can be intimidating. And it only exists for a certain period of time before it disappears into the history of the universe, you may have been the only person that was able to dance with it, get inside it. For me that is as raw as it gets and my music has the same power for me, it brings me together with other people and this world.
Photos: James Looker