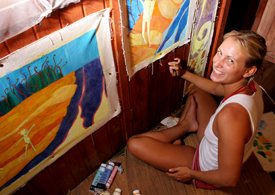 San Diego-based artist Meegan Feori talks to Drift about her work, what inspires her, and how she combines her twin loves – art and surfing…
Drift: For those who don't know you, please introduce yourself…
Meegan Feori: Meegan Rene Feori. Meegan, from a Blood Sweat and Tears' song, 'Meagan's Gypsy Eyes'. But since my mother is a school teacher, its spelling changed to a double E which phonetically makes more sense in English. Rene is my grandfather's middle name. Feori really should be fiore or fiori, flower or flowers in Italian, but its spelling was changed when my family immigrated to the United States.
I was born in San Diego, California and I grew up going to the beach in La Jolla, a Friday night and Sunday morning family tradition. Then in high school my father taught me to surf in Pacific Beach. I attended University of California, San Diego, where I studied Interdisciplinary Computing and the Arts, a practical way to put my creative tendencies to use.
Since graduating I have been working as a lifeguard in the summer and doing some apparel graphic design and freelance illustration during the off-season to support myself. I have been lucky enough to travel to Costa Rica for the past two years to paint and surf. I am currently back home in San Diego working, painting and surfing.
Drift: When did you first realise that you could create art professionally?
MF: The first time I realised that living as an artist was possible was while I was in Italy visiting my friends, Esther Seidel and Patrick Steiner, who are both sculptors. I met them surfing in San Diego the previous winter. Seeing how they live and work helped me to realise that being a professional artist is possible. I really made the decision to become an artist when I was in Costa. It was the first time in my life when making art was a priority, and I didn't have to work or attend classes. The ability to focus and create as well as the encouragement of my friends opened my eyes to the decision I had already made in my heart. Right now I see myself as an artist with training wheels because I am learning and growing. Also because I am not self-sufficient just selling my work.
Drift: What inspires you to be creative?
MF: I am inspired by the world where land and the ocean meet and by moments I share and witness that are emotionally charged. I hope that my paintings impact people in a positive way by revealing what is overlooked or difficult to express.
I believe in a world-wide commune of surf culture. It is a bit like music and dance, a common ground from which to begin. Surf culture and surfers are conscious and dynamic. Out of the water hanging out with surfers from my own city and around the world sharing stories, watching movies, listening to music, reading books and magazines, participating groups like Andrew Couldwell's Club of the Waves and WildCoast help me to connect. But really all I have to do is enter the ocean to feel a part of something greater than myself.
Drift: Can you describe the difference between surfing and painting?
MF: Surfing is a series of beautiful ephemeral moments. Experiencing one for a short while, letting it go and then finding it in another wave in a different moment. Painting, for me, crystallises these transient moments of surfing and life, making them tangible.
Drift: What is the key to the perfect picture?
MF: My paintings, once finished, always feel complete. Perfect isn't the right word to describe them. So instead, the key to completing a painting for me is understanding its meaning in relation to myself. My paintings illustrate narratives that serve as a beginning and are finished based upon personal experience. Once I figure out my personal story for a painting the physical process of creation flows, things fall into place and the painting completes itself.
Drift: What do you think you will be doing in maybe 10 years?
MF: I would like be living in a small beach town with my own family, supporting myself through what I create, travelling to metropolitan areas for art shows and business. Except friends tell me that in 10 years you end up doing something that you never expected and it is better than what you planned. So I am open to what will happen and will enjoy it as it comes.
Drift: Do you have a motto by which you live your life?
MF: It isn't tangible, I express it through my actions, how I live. It is based upon integrity, respect and dedication. But since you asked for one, and I figure that I should have one, I came up with this: Dream to create, create to dream. It seems more like an artists' statement though and could really be create to dream, dream to create…