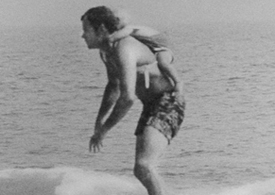 A book landed on my doormat today. From a PR company. Now, I'm a big fan of reading and a big fan of surfing, but often the books that I get sent don't do either of them justice. This one is an exception.

'Crazy for the Storm' is the memoir of Norman Ollestad, who grew up amidst the uninhibited surf culture of Malibu and Mexico in the late 1970s. Thirty years ago, at just 11 years old, he was flying to a ski championship ceremony with his father when their plane crashed in the San Gabriel mountains. Norman was the only survivor. In the book he talks about his experience stranded 82,000ft up in ice and blizzards, his survival, his father and how it shaped him growing up.
A pretty powerful story and one that's hard not to get sucked into – I can't put it down. 15 publishing houses battled over the rights to publish Norman's memoirs for months before Ecco books, an imprint of Harper Collins, won out with the hardback version hitting the bookstores this month. On top of that, the film rights have just been acquired by Warner Brothers.
The book can be bought from Amazon and all major book retailers.