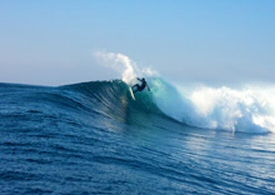 There is a new pier threatening the classic Irish breaks of Crab Island and Doolin Point over near Lahinch.
For thousands of years the waves breaking on the limestone slabs of Crab Island and Doolin point have been peeling off & spitting tubes. It is only since the early 1970's that they've been ridden by surfers. Since then they have become, along with the Bundoran reefs, the most surfed spots in the country.
They have been on the "must surf" list of any travelling surfers coming to Ireland, from Kevin Naughton's arrival in the 70's, to the McNulty brothers virgin surf on their ancestral turf in the 80's, to Anthony Walsh's extended stay last winter.
The scenery in the area is spectacular, with the massive cliffs of Moher looming to the south and the geographical uniqueness of the limestone karst region of the Burren to the north. Add in the Aran island chain only a few miles to the northwest and it all comes together to make this spot the iconic postcard surfspot of Ireland.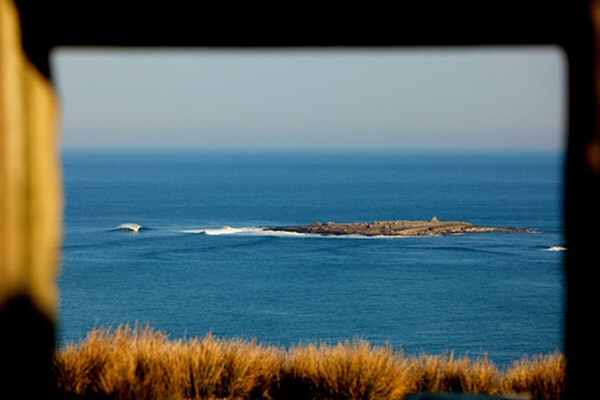 While being overshadowed in the media lately due to the discovery of heavy spots such as Aileen's and Riley's, Crab Island is still a more important surf spot to most of the surfers of Ireland. This is because of the frequency of which it breaks and the fact that it is within the capabilities of all competent surfers. It is the spot most likely to deliver the 'ride of a lifetime' for 90% of Irish surfers.
Unfortunately that may not remain the case…
There is a ferry operation running from a small pier in the lagoon behind crab island to the nearby Aran islands. This runs during the summer months when the lagoon is not getting churned by big winter swells. These ferries now require a larger pier in deeper water in order to meet an EU regulation on commercial passenger ferries. However the design that Clare Co. Council has decided on is likely to damage both waves of Crab Island and Doolin point from backwash. It will also introduce a safety hazard by forcing surfers to now paddle across the ferry's paths to get to the lineups. It is also likely to get damaged by winter storms due to its exposed location out the point. (The existing pier is located at the back of the lagoon). Reading the plans drawn up shows that the effect on the surf spots has not been taken into consideration at all by the council. They have, to date, not given any response to repeated and sustained requests from local surfers for a meeting on the issue.
Please sign the petition to keep this from becoming a reality.