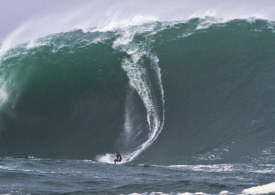 Devon local and Tiki team rider Andrew Cotton, heads off to Los Angeles for the XXL Awards, nominated in the Biggest Wave Award category for a monstrous wave in Ireland.
Video footage shot from the land and David Olsthoorn's epic water shot made the fifty foot hollow beast one of the most published of 2012.
We can now release the unpublished shots of the wave – the angle that really shows the thickness, size and power of the wave and the 30ft wall of spray that blew Cotty off the board. Check them out at Tiki's blog.