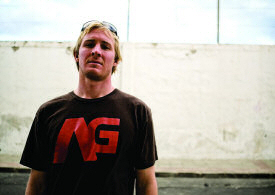 Tiki International, the Devon based wetsuit and surfboard company, have added Andrew Cotton to their team.
Cotton has developed a reputation for discovering and charging big cold waves, notably being one of the first tow crews to take on the heavy lefts of Mullaghmore in Ireland. More recently Cotty and tow partner Al Mennie, pioneered the lastest Irish big wave discovery, Prowlers.
Cotty joins Tiki wetsuit R&D team; a team centered around the slabs and tow waves of Ireland and North Scotland.
Tiki said: 'Having Cotty on board adds weight to our commitment to cold water charging. As a British company we have always focussed on cold water performance. To genuinely test our equipment in the most extreme environment, you need surfers out there regularly surfing cold, heavy water spots. Cotty joins our other test pilots: Mitch Corbett UK currently in North Scotland, Barry Mottershead SA based in Ireland and Rick Willmett AUS currently holed up in South Tasmania.'