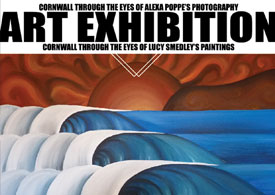 Cornwall through the eyes of…is an art exhibition at Cafe Irie in Newquay with paintings by Lucy Smedley and photography by Alexa Poppe. The work on show is all inspired by the beautiful and ever changing landscape of Cornwall. The Exhibition opened on the 1st July and will run until the end of August. The opening night is on Friday 19th July.
Lucy is a 3D designer and can often be found in front of a computer screen, but swapping computers for canvasses gives her a lot pleasure, helps her to unwind and allows her to express her love of art, surfing and the great outdoors of Cornwall. Acrylics on canvas are her preferred medium and she loves using a palette of warm earthy browns and striking blues to add as much depth as possible to her paintings. Whilst painting is a relief from designing, her 3D background also influences her artwork. The paintings on show by Lucy are colourful and abstract renditions of the perfect wave.
Freelance photographer and designer Alexa Poppe has a passion for documentary style photography. The exhibition contains a series of black and white landscape photographs by Alexa, which show the different moods and everyday facets of Cornwall's outdoor lifestyle. Alexa has captured these images whilst on her daily walk to check the surf with her dog. She has used black and white in her photographs to let the subject speak for itself, without the distraction or over saturation of colour, it's raw, stripped back, honest and in this case reflects the pure essence and the many moods of the Cornish Coast and Countryside.
Two artists, two medias, but the same passion for the sea and the outdoors. This exhibition juxtaposes these two contrasting styles that are bonded by the same common thread. On show throughout July and August at Cafe Irie.