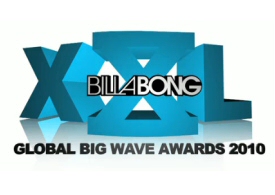 On Christmas day 2009, Carlos Burle – renowned top ten big wave surfer became father to Reno Kai Moura Burle. That was a little over a month ago, in the meantime, he's still been training on the North Shore and grabbing the occasional bomb off Pe'ahi.
According to the WHO (World Health Organization), once you become a parent you lower your life risks, in other words – you gear down. It seems according to Carlos Burle – you gear up. As Tom Kay, Finisterre's founder described, "he's not stopping, he continues to push the big wave world every year – Just a little over a month after his sons birth, he's just scored one of the biggest barrels of his life. We knew this season was going to be a good one for Carlos in the Islands and he's out of the gates with a pace".
The barrel he grabbed at Pe'ahi was extraordinary – see the video below. Some industry pundits have suggested this is one of the biggest slots the North Shore has ever seen and with it follows once again – a XXL Big Wave Award Nomination.
"We speak to Carlos often, we never ask anything of him, we're just happy to have him close and then he pulls things like this out of the bag – so super stoked", remarked Ernest Capbet, Finisterre's Marketing Director.