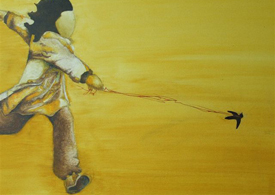 Dark days sneak in and stay for only short moments in our lives, but when those days come, just like any other, we need to face them – head on.
On 8th May we lost a very dear friend, a remarkable surfer and an incredible human being, Ross Taylor, after a long and difficult fight with cancer. I write this article with a heavy heart and in total disbelief, for if there was one person that could overcome this it was Ross – a warrior at heart.
I remember when I started surfing at the age of 14, Ross was one of the guys all us young guns used to watch from the shore in awe, in admiration and complete stoke. When he got in the water we got off the peak, not only because we had to earn a place in the line-up, but because Ross was our hero.
He was a soul surfer; he not only surfed with his heart but he was the rhythm in every next breaking wave. He brought a smile whenever he came surfing and he made the Buffalo Bay crew a family. Ross loved the ocean, so much so that even after surviving a shark attack, he got straight back in the water. I remember reading about him in the South African surf mag ZigZag after the attack; I was so proud that I told anyone who'd listen that he came from our beach and was part of the local Buffs crew. Most sunrises and sunsets Ross was out there, pushing boundaries and setting new standards, all for the love of it.
He was a gentle soul, and although I only knew him through surfing he seemed to embrace life with respect and love. He was peacefulness itself. He had blue eyes and a grand smile and he made long boarding look like poetry in motion.
A few months ago a surf contest and exhibition was held to raise funds to pay Ross's medical bills at Buffalo Bay wild side (one of our local spots). Ross made an appearance, although the cancer had him in its grip. For the few minutes that he was there, he was surrounded by well-wishers, but I managed to chat to him about a painting I had up there. It's yellow, with a girl being pulled by a swallow on a string. I told him that I never knew which one of the two I related to the most – the girl holding on to the swallow or the swallow pulling the girl.
In hindsight, this painting goes out to Ross, for he was always a swallow – free. He didn't let life or cancer or circumstances get him down. He shook off his wings and flew off to new heights, new horizons and new adventures.
He pulled life with all his might and showed people that life was about giving. It is with intense admiration that we say goodbye to this dear friend of ours. Please, those who can, join us on Saturday 15th May for a paddle out memorial at Buffalo Bay – let us celebrate his life in full.
Rest in peace best beloved.