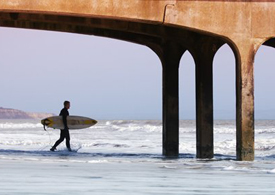 So, Boscombe's new artificial reef is finally finished. Has anyone had a go yet? What do you think?
As a one-time Bournemouth resident, I love the fact that the official blurb describes the wonderful BosVegas as a "cosmopolitan, thriving resort"… Stick to the beach, don't venture into Boscombe proper, and you may still leave under that illusion! Apparently they've created a 'spa village' so that visiting surfers can avoid the locals…
The official party line is that after your 220m paddle-out, on days with good swell you should be treated to "decent-sized waves peeling down the right of the reef, creating a longer-ride of around 50m for surfers. An occasional swell from the east may also generate a short left-hand breaker with a ride length of around 15m." But be warned – it can't create waves out of nothing, so it's not likely to be pumping every day. Between September and April, when Boscombe gets its best swell, you should notice a difference though.
The reef was built in conjunction with the world-renowned ASR Ltd of New Zealand – who have an excellent environmental track record – and there's plenty of technical info about the reef's construction and environmental impact, as well as a description of how the reef will work, published on the Bournemouth website.