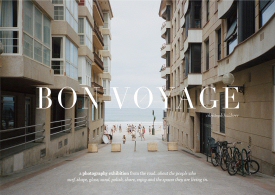 BON VOYAGE is a visual diary of several trips to the European coastlines, meeting people along the way, who are in some way related with and co-define an alternative European surf culture.
These trips took place mainly along the classic Atlantic stretch from France to Portugal, driving and living in a van as long as possible. The show features people that Chris met along the way and stayed in contact with.
Chris is a 31 years old graphic designer and photographer from Austria with a huge passion for surfing. He started taking photos at 16 to inspire his graphic design and to provide material to work with. he has grown up working in both areas, working in everything from magazine editing to publicity work. Chris is also the designer behind Magic Quiver Surfshop, designing logos, the website and tee shirts.
He saw the movie North Shore when he was a kid and became fascinated with those images. He started surfing in 2000 and became completely hooked. After many years traveling to find surf, he now calls Portugal his home.