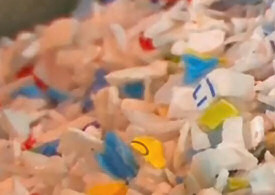 Need an incentive to pick up beach litter? Well, look no further than the Blest convertor, which will turn all plastics back into petrol, diesel and heating oil.
The Blest Be-h desktop unit will convert plastic grocery bags, milk and water bottles, margarine and yogurt containers and wholehost of other refuse into oil that will run generators and other engines. This desktop unit is ideal for classrooms, small offices or home use. Using a thrifty 1kw per hour to process, this machine can actually produce diesel, gasoline and kerosene in addition to boiler oil.
The larger machines are ideal for businesses, municipalities, recycling centers, even flat complexes can recycle their plastic waste and make their own oil.