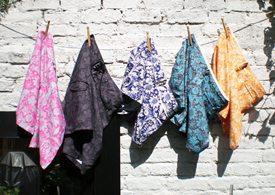 Tired of the ubiquity of radical fluoro boardies, and wanting to produce something both ethical AND stylish, Riz Smith set to work and came up with a line of shorts made from 100% recycled and recyclable polyester. Hot off the digital press, they're printed using earth-friendly water-based inks and take inspiration from the dapper old days when men were rarely seen without hats and moustaches. So if you want the ladies to appreciate the cut of your jib, check out a pair.
We caught up with the man himself to find out more…

Hey Riz, where are you right now?
Sunny Cove Studios, sitting in my lounge bay window, looking out over West London houses. Not quite the beach bay view I'd like, but it's a 'bay' nonetheless.
What made you want to make boardies?
I had been designing swimwear and boardshorts for other other brands for years and, like many commercial designers, I got bored of having to churn out the same designs all the time. I love the idea of specialising, honing your skills and doing one thing really well, so I thought 'let's just make amazing boardshorts'.
When I left fashion college I wanted to do high-end menswear, and randomly landed a job at Speedo. I worked there for years and learnt everything there is to know about swimwear. After that I designed surfwear for Ocean Pacific before working on lifestyle ranges for brands like Ben Sherman and Puma, so I've had a very commercial background, but now I'm doing my own thing.
What's the Riz style?
At the moment I'm all about the 'beach dandy'. I take references from the details of period menswear, and weave into that the notion of a gentleman surfer. I like the idea of using the Britishness of traditional design, and combining it with something that's usually considered a casual garment. I also like my designs to have a certain subtle cheekiness to them! Riz Boardshorts are more tailored than regular boardies – cut slimmer, but retaining good movement. They come in three lengths, classic knee, retro mid-thigh, and 1950s short short.
Most of the surf brands produce board shorts and clothes for teenagers and kids, but I wanted to create shorts for the savvy guy who's over that 'radical dude' look, but not ready to shop at M&S just yet. Environmentally conscious clothes tend to have a bit of a hippy vibe, but there's no reason why they can't be dapper and cool. We're aiming to collaborate with artists and designers, using each short as blank canvas. The future of brands is to create communities where people can input and evolve the product through communicating and experimenting.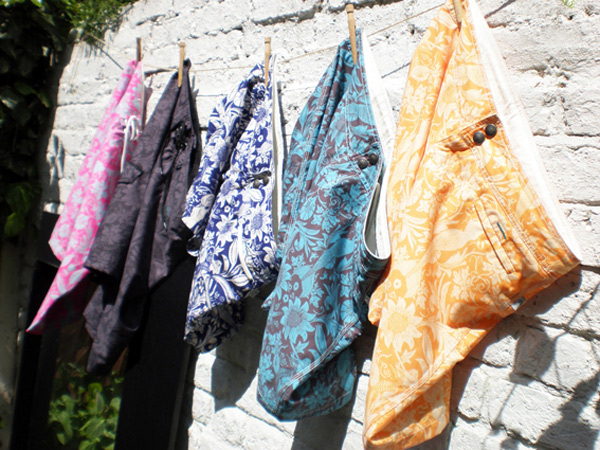 How do you think we can improve the environmental impact of the clothing manufacturing industry?
Wow, that's a hard one. It's going to be a slow process but education is key. I think there need to be tougher laws and inspections on fabric production, factories, shipping and ultimately what we do with the clothes when they reach the end of their useful life. Transparency and responsibility are key – I think the clothing industry is about 10 years behind the food industry at the moment.
The best way to improve the system is to support it. Environmentally produced clothes are expensive at the moment, but the more people buy them, the cheaper they will get.
What's in your quiver?
Living in London can eat you up, but I try to get down to the coast as often as possible. My quiver is usually armed with a powder blue 6'2″ fish I bought in Costa Rica and an old, yellow-tinged 7'6″ JP board. I'm after a wooden longboard though, to go with my shorts.
If you could be anywhere right now, where would you be?
Right now I'd love to be in Nicaragua, in this secluded spot we found a few years back. It's totally remote, with miles and miles of untouched beaches. We'd get up at 5am to surf the glassy waves, which would go flat at 8am when the wind changed, so we'd snooze under a palm tree. Ahh, lazy days…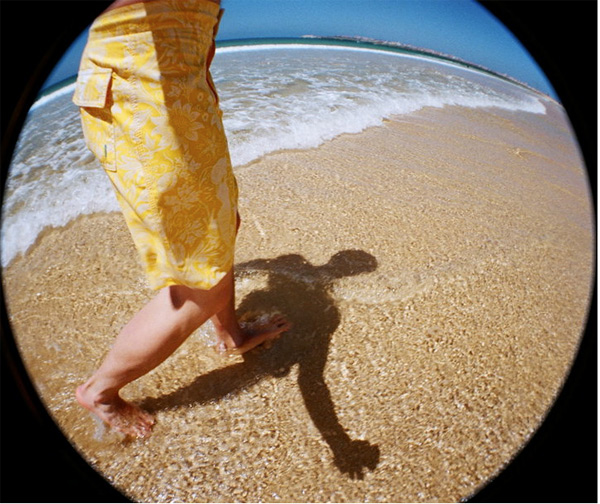 What's the first thing you can remember?
Buck Rogers.
What are you scared of?
Snakes and heights.
What will you be doing in 10 years' time?
I'd like to think I'll be living by the sea, selling quality shorts, maybe with a little gallery / cafe/ shop thing tacked on. I'll be surfing my wooden longboard and probably still chasing girls up and down the beach.
What keeps you awake at night?
My cat scratching at the cat flap.
You can buy Riz Boardshorts online and at Tonic on Portobello Road, London. Keep up with the latest developments at Alive with Pleasure.