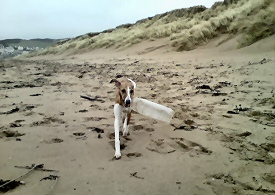 North Devon's Biosphere Reserve 'Beach Clean Weekend', was a resounding success over the weekend of Friday 19th to Sunday 21st March.
Over 650 enthusiastic volunteers from the local community rallied together to clean 29 beaches between Lynton and the Cornish border, despite rainy weather on the Friday and part of Saturday. Sunday however proved to be a typically lovely North Devon spring day with many volunteers playing on the beach and enjoying a picnic after the beach clean.
A total of 653 bags of rubbish were collected, with a further 57 bags of re-cycling waste. Amongst the rubbish, some interesting finds included: A bottle from Ilfracombe Dairy with telephone number '226', Plastic ride-on police car, Bicycle saddle, gas cylinder; lorry tyres, oil cans, fishing rod, toothbrushes, toy soldiers, fire extinguishers, plastic cutlery, an unexploded firework, shotgun cartridges, a fridge, a pram, a dune buggy, lots of lolly pop sticks and cotton bud sticks and ear plugs.
Most importantly, everyone who took part had a great time and were extremely positive in their feedback of the day.
The Beach Clean was also part of the North Devon Coast AONB's 50th Anniversary programme, a fitting event to celebrate our stunning North Devon AONB coastline.
Andy Bell, North Devon's Biosphere Reserve Co-ordinator said, "The enthusiastic support shown for the Biosphere Beach Clean Weekend has been fantastic. Schoolchildren and businesses braved the rain on Friday, whilst the weekend volunteers enjoyed better weather.
Everyone pitched in with great enthusiasm, good humour and community spirit. We are really delighted and appreciative that such a huge number of the local community, from such a wide range care for this world-class environment and gave up their precious free time at the weekend.
Schoolchildren, students, families, individuals, organisations, businesses, our local MPs and Councillors,visitors and a local troupe of Morris Dancers showed impressive energy and commitment."
Our website has photos and a short film, which capture the essence of the day: www.northdevonbiospherereserve.org.uk . We think they show a proud North Devon community doing their bit and enjoying our wonderful environment.
Biospheres are about the contribution the environment plays in our lives and how we as a community, proud of our world class UNESCO status, can play our part in sustaining our environment for future generations. Everyone who took part demonstrated the value we give to our special places and saw first-hand the harm we can do to our environment. I'm sure like me, they will be thinking very carefully about the volume of rubbish we all produce, how we can reduce it and how we might better dispose of it.
Given the overwhelming success of this year's beach clean weekend and all the support from such a wide range of organisations and businesses we hope next year to build on this for future events.
We are all very proud of North Devon and want it to remain one of the world's great places. Thank you to everyone who gave up their time or demonstrated their support.
For more information please visit the North Devon Biosphere web site.