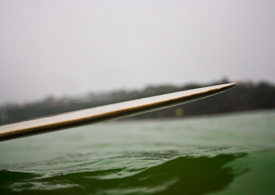 2009 was no ordinary Roxy Jam – this year was special in so many ways. (Photos by Ryan Heywood).
Two weeks in France definitely wasn't long enough – fun waves, great weather, a rad crew of 20-something people and gorgeous food courtesy of all those French bakeries.
My good friend Kassia Meador and I rented an apartment right above the contest site, in this grand old Victorian-style castle. And the weeks I spent out there were made even better when my very special and wonderful twin sister flew out later to rock with us.
The world's 32 best female longboarders were competing at La Côte des Basques in Biarritz for the title of Women's World Longboard champion, and as the only British representative I felt honoured to be there and committed to doing my absolute best. This year saw a change in format, and with sudden-death from round one it was always going to be tough. But after some intense physical and mental preparation throughout the year and with three big wins under my belt (the English, the British and the European Titles 2009), I was feeling confident. Unfortunately, due to the new format, only one person could advance and this time Yuko Shimajiri made it through the round.
Still, I made the most of my stay in France, focusing my creative energies on getting weird and wonderful with an array of Polaroid cameras, Holgas, 35mm, digis and video. Road trips and stray missions lead us to find some crazy locations to shoot and play. Our crew consisted of Coline Menard, Reunion, Jen Smith, Shany J, Kassia Meador, Leah Dawson, Kerry O'Donnell, John, Pandora C, Margaux, Loren C, Lee Anne Curren, New York, Helen Chaboux, Baboon, brother and sister Frenchies, and Julie Cox, to name a few. With a crew like that, magic was bound to happen. Each and every one of these people have their own creative movement. I was inspired to be among such a great and genuine crew of people.
Now I'm back home in the UK resting and drinking Yorkshire tea.
Cheers for reading my blog.