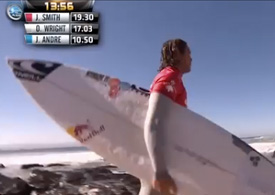 Another lay day at the ASP J Bay Open and we could all do with a breather. The ocean has no favourites we know that. Why yesterday you ripped but today you suck is a wonderful, infuriating mystery. At this year's event it seems even the pros are getting a taste, too.


I'm stoked to have J Bay back and as usual the Africa's only event is full of drama.
Is there anyone better at J Bay than Jordy Smith? Forget Knox, Occy or Curren no one owns the bay like the Durban boy. On the first day he put on a master class of flawless rail-to-rail surfing and received the two nines and a ten for his effort. No one looked more relaxed and in flow than Jordy.
But then the Goofies arrived. The blistering walls of the world's best right lend themselves to the speed carves of regulars but in the space of two rounds four times champion Slater had been dispatched by a lethal looking Wilko whose tail drifts tore the place apart. Medina squeezed passed Aranburu. Wright took it to John John. Fin-to-the-face or not, Freddy P paddled out and destroyed Young with a flawless backhand barrel. The overly relaxed Jordy fluffed his finishing move in dying seconds and that was enough for CJ Hobgood. No hat-trick for Smith. Sorry Bru.
Half way through Round Four and the Goofies are still dominating. Can they go the whole way or will Occy remain the only one of us to take a J Bay title?