Australia is already blessed with some of the best surf on this planet, yet it seems they are not content with the natural breaks that bless their island and instead are planning to build a floating surf park slap bang in the city.
The Dockland's surf park in Melbourne is the brainchild of a group of young architects who have teamed up with global engineering firm Arup and is just in the planning stages at present.
"The whole idea began with the idea of being able to surf in a city location. It is just that opportunity to finish work, come down here with a surfboard and have a surf" said architect Damian Rogers of Damian Rogers Architecture.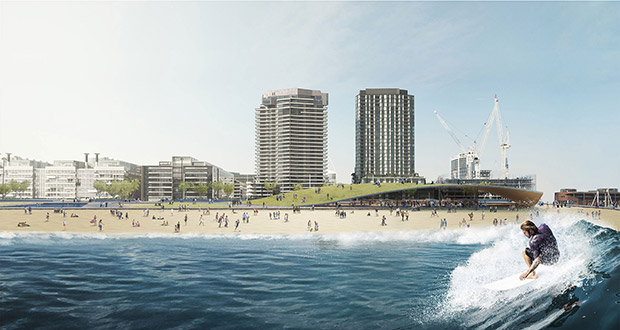 Phil Carter the Urban and Transport Planner at Arup added "The idea is to create more than just a beach and more than just a surf-able wave. The idea is to create a 21st century park that is a place where different people from the communities can all come along and enjoy it".
At the moment to get a surf in Melbourne you would have to jump in the car for an hour and a half to head to the infamous Bells Beach. So bringing surfing to Melbourne central has been met with great excitement from the Australian surfing community.
"To bring the surf to the city is a great concept, especially to a site like Central Pier in the Docklands. I can imagine having surfers in suits heading for an after work session and kids coming to the Docklands carrying surfboards on Melbourne's trains and trams." said Max Wells, Chief Executive Officer at Surfing Victoria.
 To find out more visit www.docklandssurfpark.com.