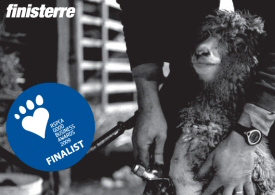 St Agnes based fashion label Finisterre has been shortlisted in the fashion category for this year's RSPCA Good Business Awards, which recognise ethical business approaches to animal welfare. Finisterre has been shortlisted alongside some of the biggest high street names including George @ ASDA, Tesco, New Look and M&S.

Finalists joining Finisterre in The RSPCA Good Business Awards fashion category – in association with Drapers – are: North Yorkshire based retailer Izzy Lane and Brighton company Neon Collective in the small company category and George @ Asda, Tesco, M&S and New Look in the large company category. All businesses have been selected for their commitment to achieving high standards of animal welfare.
"We won the Observer Ethical Award last year and that was a milestone for us, in terms of what six people in a little workshop can do. To be recognized for the RSPCA Good Business Awards take it all that much further, we're absolutely stoked to have been chosen as one of the finalists', said Tom Kay – Finisterre Founder.
One of the judges3, designer Wayne Hemingway, says: "We are genuinely impressed by the calibre of entries this year, not only from the smaller, ethically minded companies but also from the growing number of high street retailers who are listening to customers and making huge steps forward for animal welfare.
"When retailers on this scale address these issues, you really do have to be hopeful that we have reached a tipping point and the world is starting to listen."
Fashion finalists for the 2009 Good Business Awards (in alphabetical order) are:
Large Company
George @ ASDA: They have implemented a complete ban on the use of fur in all clothing and product ranges. They also have a clear labeling policy for fake fur garments. The firm continues to test and sample products that come through their suppliers to check that no mixed fur products are used and have set up a suppliers workgroup.
M&S: For an ongoing commitment to animal welfare. Their statement is that animals should not be bred and slaughtered specifically for the purpose of producing non-food products. As well as a ban on selling fur, their aim is to source 100% non-mulesed wool by 2012. They are also looking into setting their own minimum standards for feather and down.
New Look: This prominent high street brand has implemented a no fur policy which requires new suppliers to sign their Animal Welfare policy and adhere to it. The company is also keen to further develop its leather-sourcing monitoring so it will be able to provide clearer labeling information. They are also trialling sustainable fabrics including fabric made from bamboo, recycled plastic bottles and an organic cotton range.
Tesco: The company are working in partnership with Defra via their Sustainable Clothing Action Plan. They do not use any real fur and all faux fur is clearly labeled on garment care labels. One interesting scheme is their E-leather footware range that uses recycled leather.
Small Company
Finisterre: For the company's no mulesing policy and their sourcing of merino fabrics. They are also looking to source feathers from a free range sourcing programme in Poland. Finisterre believes in communicating with its customers so they can make informed buying decisions.
Izzy Lane: For an ongoing commitment to animal welfare. Isobel's flock of sheep were rescued as lambs from slaughter and live on the farm in North Yorkshire. Their wool is used to create a stylish fashion collection, helping to support a network of rural handknitters.
Neon Collective: A high end ethical fashion store that offers a range of vegan designed shoes, handbags and accessories which are completely free of all animal-derived products. The company also has ethical policies on pollution, recycling and packaging helping to create a mantra of 'responsible luxury'.
David Bowles, Head of External Affairs for the RSPCA says: "We have had a record quality and quantity of entries to this year's fashion category – a clear indication that companies are responding to the shift away from disposable fashion and towards responsible consumerism.
"Shoppers want to feel assured about the animal welfare credentials of the items they buy and therefore it is great to see some of the biggest fashion brands on the high street on this year's shortlist. These companies, who are striving to implement exceptional welfare standards, deserve our recognition as they set the standard for others to work towards."
The RSPCA Good Business Awards gala ceremony will be held at One Marylebone, London on Wednesday 7 October 2009. Tickets for the awards ceremony are available by contacting the RSPCA Good Business Awards team on 0300 123 0488 or [email protected] or online: www.rspcagoodbusinessawards.com
www.finisterreuk.com