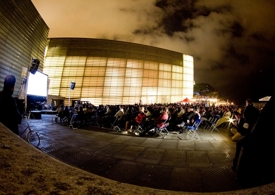 The  AMSTEL Surfilm Festibal8 2010 -June 3/4 & 9/13, Donostia – San Sebastián (Basque Country, Spain)- has gotten off to a great start.
On Thurday June 3, and after the official press conference with Chris Malloy (who is presenting 180º South in Europe during the AMSTEL Surfilm Festibal), things started off with the Spanish premiere of the 3D documentary The Ultimate Wave Tahiti. Although the screenings didn't take place at the normal venue (Teatro Principal) that didn't deter the crowd from attending; several hours before the start there weren't any tickets left .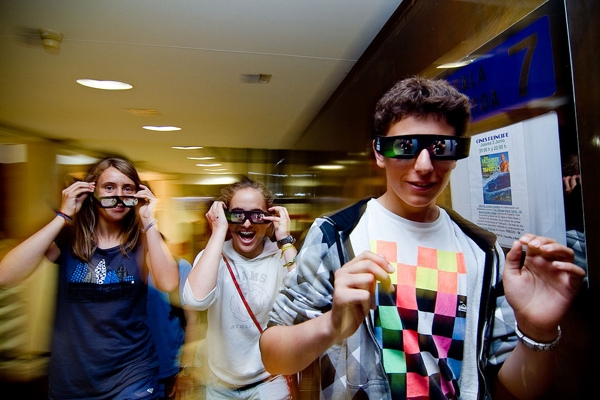 The following day (Friday 4) saw the opening of the Idiosyncrasies photo exhibition, with Patrick Trefz, at the NoColor art gallery. Idiosyncrasies is also the name of Patrick's new surf film, and it will be premiered on Friday June 11 at 21:00 at the Teatro Principal.
By 21:30 people were slowly congregating towards the back of the iconic Kursaal building near the Zurriola beach. As the sun was setting the local band from Zarautz Buffalo Band were releasing jazzy tunes and everyone was chilling out and getting ready for a big night. Soon after Jeff Johnson and Chris Malloy (main character and director) jumped on the stage to present the much awaited 180º South. A crowd of around 1000 people watched the movie in complete silence – apparently the biggest crowd the movie has had so far- soaking thebeauty of the images and the important messages. After that it was time to party with the screening of Point Break while Elena y su conjunto played the original soundtrack life, life performances at different moments of the film and a huge party at the nearby Bar Ondarra.
Now it's time to rest and get ready as the Amstel Surfilm Festibal is back on Wednesday 9 with the premiere of The Cove, the Skeleton Sea art exhibition opening and plenty more. Check all the program HERE.
Niegà
All photos by Roke. Check them all HERE.