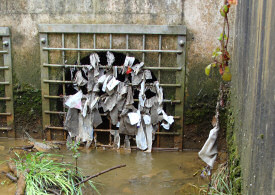 Surfers Against Sewage are concerned to learn that Foundation of Environmental Education is considering rewriting the rulebook to relax regulations on sewage discharges from Combined Sewer Overflows (CSOs). SAS's directors are writing to the director of FEE calling for Blue Flag beach users to be protected from raw sewage discharges.
SAS have learned that FEE is considering amending the criteria that beaches have to meet to achieve the coveted Blue Flag status including watering down criterion 28 relating to real-time public warnings when raw sewage is discharged from Combined Sewer Overflows (CSOs).
In August 2010 SAS exposed the vast number of UK Blue Flag beaches without warning systems to protect the public after sewage discharges. As a result of SAS's campaigns, Keep Britain Tidy has now insisted on real-time warning systems at the UK's Blue Flag beaches giving beach users the information to protect themselves from raw sewage discharges.
But this positive step forward in beach management will be completely undermined if FEE rewrites the rulebook watering down the regulations currently there to protect the public from direct contact with raw sewage. FEE also run the risk of devaluing the Blue Flag's reputation and integrity around the world.
SAS are also calling its extensive and passionate supporter base to join the SAS directors in contacting FEE's director Mr. Finn Bolding Thomsen urging him to keep the current regulations. This will ensure the public are always informed of sewage discharges at Blue Flag beaches helping protect them from potentially harmful pathogens like Hep A, Ecoli 0157, Gastro Enteritis and much more.
SAS Campaign Director, Andy Cummins says: "Beach users deserve real time warnings when raw sewage in the sea and premier Blue Flag beaches should lead the way with these systems. If FEE rewrites their own rulebook the devalue the Blue Flag should fly at half mast."