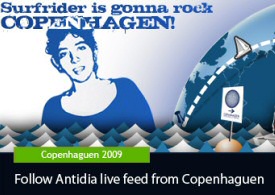 Copenhagen is under way, leaders from all nations are present, and the WCT surfers joined Surfrider for the Seal the Deal! campaign.
As you may know, we're all doomed if world leaders can't extend their vision further than the noses on their faces. As world leaders, the business sector, scientists and activists meet to thrash out a solution, do your bit by signing the Seal the Deal! petition.
Seal the Deal! is motivating and inspiring everyone to exert pressure on the summit to find a solution now, before we reach the edge of our tipping point. Let's hope they agree on urgent action now, and secure the future for generations to come.