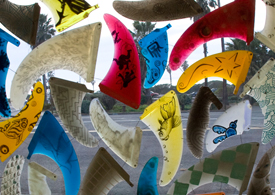 Residents of the St Merryn area were last week made aware of a worrying planning application to put in a drainage [including treated sewage] pipe flowing onto the beach at Booby's Bay in North Cornwall, which if granted will damage the surrounding area, the beach and the water quality, reports Adrian Philips of Fluid Juice. [Photo by Jamie Bott.]
It also transpired during a St Merryn Parish Council meeting on Thursday that the plan is not as was originally stated on the planning application "to drain surface water causing a wet garden" but is actually to drain the entire area to a depth of 3.2m to allow the construction of an intended new development at Little Polgarron overlooking the beach at Booby's Bay, of which the first level is planned to be underground. The present water table is at approximately 1m below the surface. This lowering of the water table would affect a large area of both Special Scientific Interest and Outstanding Natural Beauty.
To make matters worse, it was also revealed that the developer intends all sewage to be treated on the premises and the resulting liquids to be disposed of through a soakaway and hence into the ground water and then drain through the proposed pipe onto the beach.
It seems unlikely that such a scheme could get passed by the planning department, but the original planning application [2009/00850] appears to have gone through very quietly. Now that we have the chance it's important that normal people like ourselves stand up for what we believe is right – but we may not have much time so it's important to lodge your comments and/or objections as soon as possible.
If you would like to know more please read the relevant planning application [2009/01754]. This area of the council's website is REALLY slow, so it's quicker to save the PDFs to your desktop and then read them.
If you would like to comment or object to the above proposal you can do so on the Cornwall County Council website.
Thanks for taking the time to read this.
Adrian and the team at Fluid Juice.
[Thanks to Mark Sankey for the heads up.]