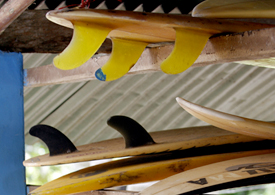 I have just read the latest blog post by Mark Dickinson (of the Cell) and all I can say is – I concur.
Before I read this, I was already formulating my own opinion on Bob McTavish's unwittingly controversial interview. But perhaps Bob wanted to be controversial, because he's a master of spin (possibly only surpassed by Tony Blair) and loves to put it out there, like he did in the 1966 Surfer Magazine article 'We Are Tops Now', which was blatant attempt to poke a stick in the eye of the Americans and ushered in an age of rivalry that still smoulders today.
Irrespective of this, I couldn't disagree more with his view of invention and validation. Last time I looked, an invention was defined as "a new, useful process, machine, improvement, etc, that did not exist previously and that is recognised as the product of some unique intuition or genius, as distinguished from ordinary mechanical skill or craftsmanship".
Unsurprisingly, there's no mention of media or mass market acceptance, nor of inventions only receiving validation if there exists the medium to propagate them. Who actually invented the shortboard and for what reason we will never know, because surf media only gained momentum in the late 1960s – which is ironically when the so-called validation of the shortboard came about. If surf media had picked up earlier or later, then theoretically someone else would have invented or "validated" the shortboard, and there are many candidates. It is rather harsh of Bob to dismiss someone with such incredible knowledge of surfboard design and science as Bob Simmons, particularly as he never had chance to "validate" his design due to his untimely death. And Simon Anderson was not the first person to put three fins on a board, but he was the probably the first to glass three the same size onto a low-volume board, thus inventing the thruster.
And it's not just designers who have been forgotten in the rush to stake a claim on contemporary surf culture. We have lost souls, too, like Shane Herring, for instance. A prodigious talent and one that many feel could have surpassed Slater, he played a significant part in the new-school movement of the early 1990s. Riding banana-rockered waif-like Weber shortboards, he beat Slater in the final of the 1992 Coke Classic and finished third on the ASP tour the following year, before fading away due to personal demons. His influence on the modern shortboard due his relationship with Greg Weber and his influence on modern performance seems to have been long-forgotten by the media, and overshadowed by Slater's "validation".
(photograph by Alexa Poppe)