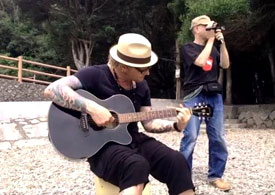 The small coastal whaling village of Taiji is located in the Wakayama Prefecture of Japan. Every year between Sept. 1 and March 31, dolphins across several species are driven into a tiny cove by fishermen and either slaughtered for their meat or sold (at great profit), to the captive marine industry. Last year, 1,486 dolphins were driven into the cove. This year's quota, is 2,013 animals.


Japan Dolphins Day 2013 from Melissa Thompson Esaia on Vimeo.
It was both a tragic and inspirational start to the dolphin drive season in Taiji, Japan. As a pod of between 40-60 bottlenose dolphins were pushed into the cove, Japanese activists made history of their own.
There was no grace period for dolphins this year. Despite the presence of Japanese media, activists and a contingent from dolphinproject.org, Taiji fishermen drove between 40-60 bottlenose dolphins into the cove on the very first day of the season.
As the pod of dolphins churned the waters in panic, a rather bizarre scene unfolded on the beach ahead of them. Members of a right-wing Japanese activist group, set up umbrellas, played Hawaiian Luau music and planned a whale barbecue.
Across the beach from them, separated by a large contingent of police, Brazilian activists wandered down toward the beach and merged with Japanese activists. Collectively, they stood alongside Ric and Lincoln O'Barry from the Dolphin Project, and special guest, Matt Sorum, former singer and drummer with Guns N Roses.
As the war of words between megaphones began, the pro-dolphin entourage was warned by police not to shout. So Sorum did what he does best, and began to drum quietly. He then took to the guitar to lead the group in a rendition of "Give peace a chance," followed by a haunting version of "Knockin' on Heaven's door."
The entire scene, which unfolded live on the Dolphin Project's U-Stream channel, was beamed around the globe by Ric O'Barry's son, Lincoln O'Barry. The O'Barry's were there on the opening day of the dolphin drive season, as they are every year, to raise awareness for the dolphins.
At the beach with them, were volunteer Cove Monitors and international supporters from six continents. Around the world, more than 100 individually simultaneous events spread the word of Taiji's dolphin drives as part of Japan Dolphins Day 2013.
Taiji's dolphin drive season
An old Japanese proverb says, 'the nail that sticks out gets hammered down,' so aside from small groups such as Elsa Nature Conservancy, for many years, the pressure to stop the dolphin slaughter consistently came from outside of Japan. It is only within the last few years that activists of Japanese descent, have begun to step forward. Fearing reprisal, the steps were hesitant at first. Izumi Ishii, a former dolphin hunter turned pro-dolphin advocate, was one of the first to take the plunge.
The leap cost Ishii-san and his family dearly. But he stood tall, and spoke out against dolphin hunting at the 2002 International Whaling Commission's (IWC) annual meeting. Here, under public scrutiny, he announced his intention to cease hunting and urged his fellow dolphin hunters to do the same. Today, Ishii-san and his family, run a dolphin and whale watching business.
Further massive change occurred this year, when Japanese activists chose to air their disagreement with the Japanese government. Having cracked the doors in previous years, they now threw them wide open, shedding light on their country's whaling policies.