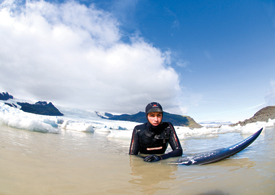 The recent spell of good waves and almost arctic conditions has been the perfect chance to try out my new super winter wetsuit. Its inaugural surf was an appropriately cold day at a south coast reef with a biting northeasterly wind grooming the waves.
Rhino wetsuits have become increasingly popular, so much so that I struggled to get the one I wanted in my size. Although the company has been churning out board bags since the 1980s, they've only been producing wetsuits for six years. Their wetsuit designer, however, has more than 20 years' experience and the suits are loved by the likes of big-wave surfer Rob Small and cold-water tube hound Ian Battrick, pictured here in Iceland with some suitably chilly looking mini bergs in the background. At least I don't have to contend with those in Cornwall…
Not one to rest on his laurels, Rhino's Andy Reed is pushing their next-gen zipperless suits, due to hit Bilbo in Newquay in a limited run of 50 this April. "We've totally reapproached the front zip by removing it," explains Andy. Well, that's one way to solve an age-old problem. "Getting rid of the zip will increase flexibility and remove the part of the wetsuit that's most prone to failure," Andy says. Instead, two sealing sections in this top-entry suit pull over your head and keep out that unholy flood of bone-chilling seawater that makes even hardened winter warriors shiver.
RELATED: The Complete Wetsuit Guide
Even though for my first surf session in the Rhino wetsuit was hyperborean, it performed really well, keeping me nice and toasty while still being flexible.
The only problem was, like the big donkey I am, I slipped over and ripped the brand-new suit on a boulder. Erm… Tape, anyone?