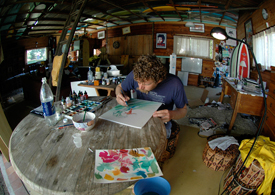 Andrew Crockett and Californian artist Harry Daily collaborated on Crockett's sumptuous 'Switch-Foot' book back in 2006. They caught up last year during a chance meeting back in the UK…
Andrew Crockett: Can you remember your first gig with surfing art?
Harry Daily: Yeah… I guess I was probably around 19 or 20. The Surf Gallery (Laguna Beach, California), that was my first big gig. I went to Australia after that and kind of got lost for a few years.
AC: Is that where you did the Sketch Holiday series?
HD: Yeah, in Australia.
AC: What inspired you to create the Sketch Holiday series?
HD: I was just bumming around Sydney to Byron Bay with my sketchbooks and some good pencils. I made these drawings all day long, at the beach, wherever it was great. Then I chose the best of those sketches and turned them into illustrations afterwards. Now they're available as prints.


AC: How many images are there in the series?
HD: I think there are 13. Well, we print 13 but there are almost 20 out there, and more to come I think when I finish it up. Not that many: a dozen, a baker's dozen, maybe.
AC: Surfers like Joel Tudor, Neal Purchase and Dain Thomas inspire some of your images… Did you surf with them, or did you see them in photos/movies?
HD: I was inspired by their personalities. Have you ever met Joel Tudor? He's great isn't he? Same with Purcho… I love that guy; so much personality, so much fun.
AC: Do you still surf?
HD: Sometimes. I like surfing in Australia, if I have the right board.
AC: What about skating?
HD: I don't have a skateboard at the moment, but I would. I gotta talk that skateboard shop into giving me one… Maybe I can work it off? I was supposed to paint their windows, I should call that guy.
AC: You're just about to head home to San Diego. Did you enjoy yourself in Cornwall?
HD: It's been great, I love England. I went to Paris too, but definitely had more fun here.
AC: Do you travel much with your art, or do you like staying in one place?
HD: I travel around until I find a nice spot to settle down and make art and then I do it and try to find my way home when I am done. It works out really well. I had a lot of luck in Cornwall, it was great.
AC: Do you consider yourself a surf artist?
HD: I don't think so. No. I should I guess? Do you think I am a surf artist?
AC: I think you can create surf art, but I also know your art transcends that bubble. What kind of work are you producing at the moment?
HD: Everything. Whatever I can get my hands on. Drawing, painting, sculptures. It's fun trying to make my art my life. Ask me in a week, though, and I might have a different answer.
AC: How does it feel knowing people want to write about you, put you in films and generally know more about Harry Daily?
HD: It's fun, it's good and so they should. I have a lot to say. Maybe not right now, but someday.
www.harrydaily.com
www.switch-foot.com