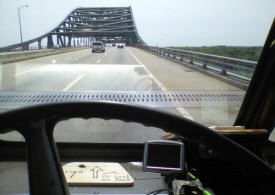 Reporting on the Grain Surfboards Rollin' Nolan Tour: some introspective thoughts by Nolan – past tour happenings – and the last few stops coming up…


Monday May 17th
2:00pm. After possibly the only stressful morning I've ever had at Grain, I pulled out of the driveway and the East Coast Ramble began. To pin down the precise moment it began—I mean scientifically precise—it would have to be when my palm struck Johnny Hamblett's in one of the most epic high fives that ever turned motion into heat and sound.
4:00pm. A couple hours later my initial stoke ran out as I tried to navigate Boston traffic while still adjusting my driving style to fit the pug. I realized the right lane and I were in it for the long haul…
5:30pm. Mark, the owner of Nor Easter in N. Scituate, MA, and Roger, the local shaper checked out the boards. They were generally interested until I brought out the Spray and the paipo, then their eyes lit up at the sight of more complex lines, concaves and channels. A father and son also came by and were interested in building a kit as a winter project—first photo-op with the Pug for the kit discount!
10:00pm. Mark gave me access to the shop to use the internet and sleep on the couch if I wanted. I took him up on using the internet to plan a bike ride for the next morning, then retired to the truck to sleep because of the creepy mannequin on the couch who wouldn't stop looking at me.
Tuesday May 18th

7:00am. As I woke up, my eyes couldn't seem focus on the pattern in front of my face. I kept trying, but every time it almost became clear I went cross-eyed. Finally, looking away and back again I remembered where I was; in the pug. The hemp weave of a Wavetribe bag on the board rack above me, which was no more than 8 inches from my face, is much too busy for newly opened eyes.
8:30am. I took a break during my first bike ride, looking over Hull and Boston Harbor. It was a hazy morning so Boston's skyline was just barely visible in the distance. Tiny, tiny waves lapped the rock outcrop I was sitting on – thinking the waves had better pick up sometime soon on this trip… I hadn't surfed for two or three weeks, which most of you know, just isn't good for one's self.
NEXT STOPS:
Saturday June 5th 8am – 5:30pm- Malibu's Surf Shop in Ocean City, MD.
Tuesday June 15th from 3- 9pm- The last official stop before Nolan rolls home will be at Chesapeake Light Craft in Annapolis, MD. In addition to having most of our boards there for people to see, we hope to be putting the top planks on the 5?4? that Nolan is building along the way. CLC will also have a nice selection of paddleboards and boat kits on hand to check out. They have been making boat kits since 1992, and paddleboard kits since 2001. You can check out their paddleboard kits here.