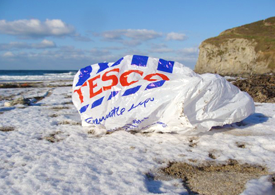 Make breaking the bag habit your New Year's Resolution
An unbelievable 19 million carrier bags are given out daily in England but as shoppers hit the stores for their post-Christmas bargains, that figure could be even higher in the first few days of the New Year, says the Break the Bag Habit campaign.
The Government will introduce a 5p charge on carrier bags in England on 1 October 2015. But, in the 638 days until then, we will use more than 12 billion bags. Making a small change in our shopping behaviour by taking re-usable bags to the shops from today onwards will prevent the huge amounts of waste, litter and danger to wildlife these 12 billion bags will result in. As well as helping to reduce the yearly £1billion clean-up cost of litter.
Even when the charge does come into force there's a danger it won't reduce the numbers of single use bags used as the Government is proposing to exclude paper and biodegradable bags. Smaller retailers will also be excluded, preventing them from benefiting from the reduced costs and stronger links with the community that their counterparts in Wales enjoy.
So, with a new year ahead of us, now is the time to say NO to the 19 million bags we're offered at the checkout every day.
"Giving out 19 million bags every day in England is obscene and unnecessary. Similar bag charges are already working in Wales and Northern Ireland, dramatically reducing the number of single-use bags distributed and receiving strong support from communities. But with the prospect of 638 days before the charge comes in for England, we should all take action and start saying no to carrier bags from today."
Andy Cummins, Break the Bag Habit spokesperson